Pre-war Register biennial rally 2021
Registrations are now open….
The M.G. Car Club (Canberra) advises that registrations for the 2021 Biennial Rally for the Pre-war M.G. Register have been strong with some 80 cars already planning to attend the Event.
Registrations are equally split between Pre-war and post-war T and Y cars. The Registration form and more information,
including a comprehensive Event Information document, can be found on the home page of the M.G. Car Club Canberra here
Program:
Friday 1 October: Registration and welcome noggin 'n' natter
Saturday 2 October: Display with market  stall, evening register dinners*
Sunday 3 October: Social run with lunch, Event dinner with guest speaker
Monday 4 October: Explore Canberra free day, optional "Embassy" run, Pre-War Dinner (by invitation)
Tuesday 5 October: Departure
*Register Dinners: Three casual "register" dinners are being offered for the Saturday evening and will be hosted by the Canberra Club at different venues: our traditional SVW dinner, a Triple-M dinner for vertical dynamo owners and a new T-Y dinner for the T-type and Y-type owners. These will be on a pay as you go basis.
Accommodation:
The Alpha Motel in Tuggeranong has been booked for the Rally.
101 rooms are available and there is generous parking including room for trailers. The Motel is currently taking bookings and we recommend you book early as reservations for the event have already been strong.
The Motel can be called on: 02 6293 3666
Book early – the rooms are going fast!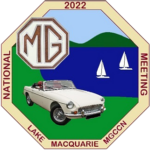 Forget the foiled attempts at holding the M.G. Car Clubs' National Meetings in 2020 and 2021.
Start planning now for the next meeting, our hosts will be the M.G.C.C. Newcastle and the destination is Lake Macquarie.
Bulletin One is here so book your accommodation now and let Newcastle know you are coming.  Find the website here.