The Register's seventh running of its bienniel national rally headed north to the coastal resort town of Yamba, N.S.W. and run by a team headed by Murray Arundell with support from the M.G.C.C. Queensland.
Centred on the Angourie Rainforest Resort, 30+ Pre-war M.G.s decended on the main street of Yamba to show their wares on the Saturday morning. Later that evening delegates were transported to the harbour and treated to dinner while cruising up the Clarence River. Unfortunately the sunny skies of the morning had turned to rain which did not stop for the next 2 days.
Sunday and Monday saw the cars heading through Yamba to explore the Lower Clarence region in the rain, unfortunately a number of cars did not have wet weather gear other than plastic garbage bags, umberellas or the trusty tonneau cover furled over the unfortunate occupants. The planners had included a number of ferry river crossings which in good weather would have been quite novel however waiting for the next ferry in incessant rain quickly lost its appeal.
Monday evening, thoroughly washed and finally dry everybody gathered at the resort for presentation of various awards, perpetual trophies and a group singing of the M.G. song "for she is a jolly good chassis." Early discussions are underway for another gethering in two years time – at a location to be determined but an early clue is that it won't be in a RAINFOREST!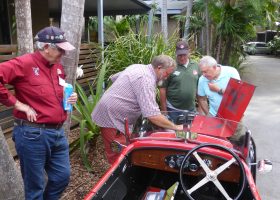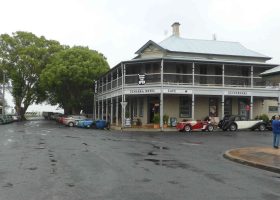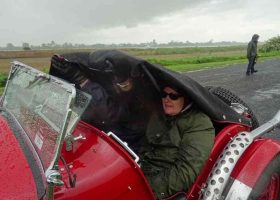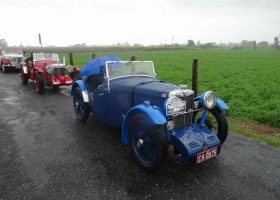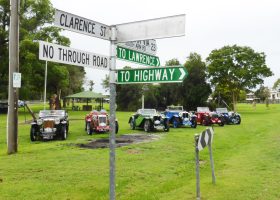 Photos by Matthew Magiltom