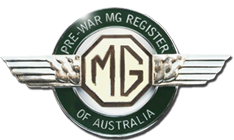 The Pre-war M.G. Register of Australia
for all M.G.s built between 1923 & 1939
Join the conversation on the Register Facebook page by clicking on the icon

All owners of Pre-war M.G.s in Australia are automatically considered to be members of the Pre-war M.G. Register of Australia when their cars are recorded on our Register.

However, to receive our 24-page Newsletters, you must subscribe, see menu above.

We love our M.G.s with their history and character and we want you to be part of our family.
If your car is not listed on the register send us the details, if your car is on the register but short on detail or images please send them to us. Help us to keep the register up to date.

Everyone is invited to subscribe to the Newsletter. You don't have to be a Pre-war M.G. owner!

If you have an interest in Pre-war M.G.s, why not subscribe to the Australian Pre-war M.G. Register's Newsletter?
There are three issues per year (March, July and November) and they are full of fascinating historical, technical and contemporary information.