A free service to advertise cars, parts,  goods or services relevant to Pre-war M.G.s.
If listing cars or parts for sale the full price must be included.
Cars must be identified by registration number and/or chassis number.
To advertise email the webperson
Advertisers are cautioned that scammers are everywhere – even here.
We all need to be wary of anyone asking for payment in advance.
If an offer seems too good to be true – then it probably is!
M.G. K1 in the style of a K3 for sale in N.S.W.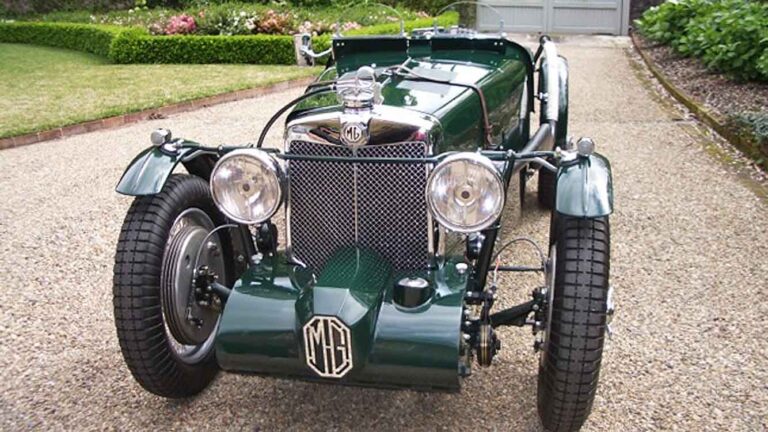 This car a true hand-built tool-room copy of the M.G. K3 competition car, with genuine K serial numbers of all of its major components matching the original factory build sheets.  All of the unused original components of the car such as the engine etc have been retained with the car.
The car is built from K0434 which I bought in a disassembled state in 1996, the rebuild was performed by John Hunting in Perth, taking over 1700 manhours.
The full providence of the car is known and it comes with the original U.K. registration papers, number plates and the factory service records covering 1934-1947.
The rebuild/restoration of the car is extensively documented in a hardcover book with photographs and text and this comes with the car.  The car has a factory fitted high ratio preselector gearbox – the same as fitted in the K3 model.  The original block was damaged and replaced with a Peter Green (UK) 1420cc block and at the same time also an 'N' head as used in the 1934 K3 model.  The car is supercharged and has 'Phoenix' crank and rods, Cosworth pistons and a 25/65 Ulster style cam shaft.  The car has the K3 specified BTH CE6 magneto ignition and an intake manifold as designed by Robin Jackson, the famed Brooklands engine tuner. 
The car is well known and has been seen at various VSCCA events in Sydney, Mt. Panorama and Cootamundra.
Price: $A350,000.  Contact:  Michael Carr.
Email:  Click here  and  Mobile:   +61408626927
Link to K0434 register listing with history and more images here.
M.G. PA project for sale in New Zealand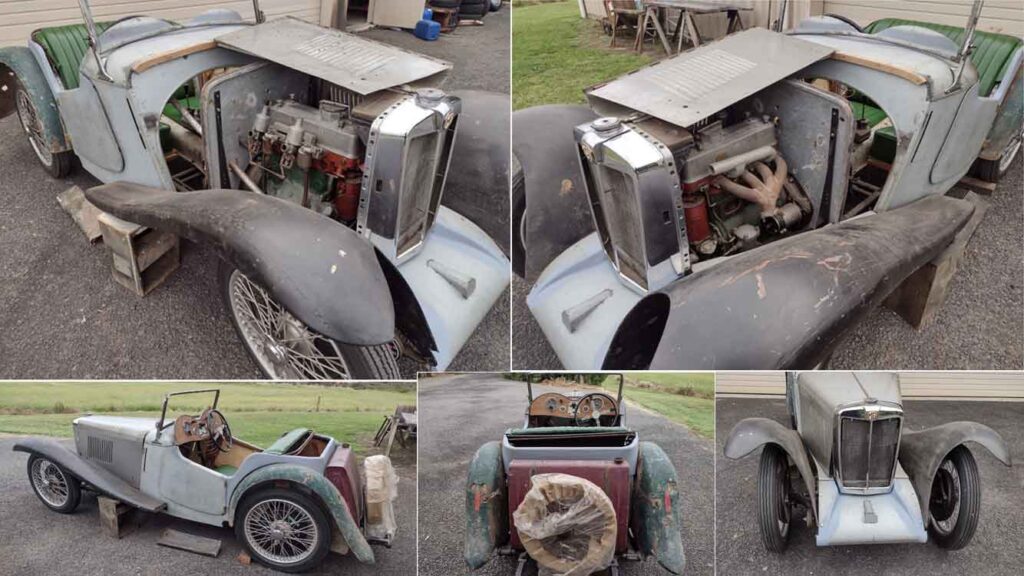 1934 M.G. PA 2-seater. Chassis no. PA 0975 NZ Reg. No. SJ 6841
A unique opportunity to complete this restoration project.  Chassis reconditioned, brake system is reconditioned with new brake cables, Included are 5 new wheels and 5 new tyres, 2 new front wings/guards, 2 rear wings/guards and running boards, new steering wheel, some new instruments, others second hand to Deluxe dash, new water manifold, fully reconditioned cylinder head, new piston set, new electrical control box, 2 new dash lamps, 2 new octagonal side lamps, engine gasket set, new complete Australian wiring loom and sheaving, complete new green leather trim and seat kit by Collingburn UK.  New chromed brass grill shell with honeycomb inserts, and assembled new wood body kit panelled in steel by a professional car restoration tradesperson. New front valance. Included are many new and good second hand other parts. One of only 1396 2-seaters originally made. Sale due to changed circumstances. NZ Registration is on hold. Original UK licence plate included with no. GG 1255. A complete detailed list of parts that are included is available. Will be certified asbestos free. 
Reply to mmmpamg@gmail.com  NZ $27000.00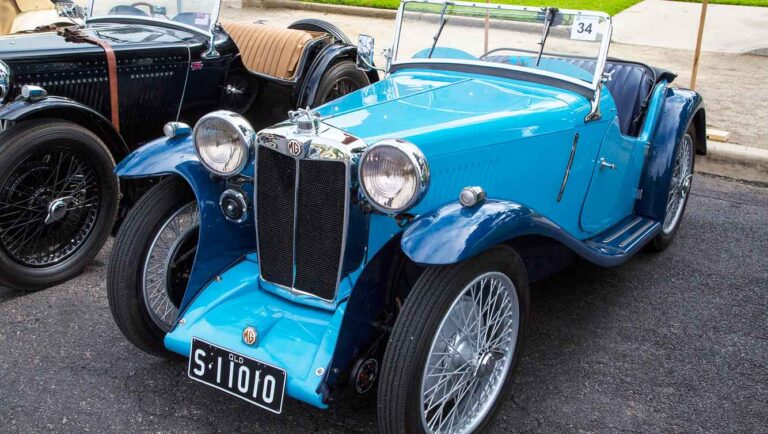 PA 1209.  Oxford and Cambridge Blue. Matching numbers.  Very original, still with Marles Weller steering gear and cable brakes. 
Restored in 2013 with professional respray.  Engine rebuilt with Phoenix crank, Carillo rods and shell bearings and Peter Hepworth pistons.  Tonneau, hood and side screens, aero screens.
Reason for sale: advancing years and vulnerability to Brisbane River flooding.
$65,000.  Ross Letten 0402 962 953 or rossletten@hotmail.com
M.G. NA for sale in N.S.W.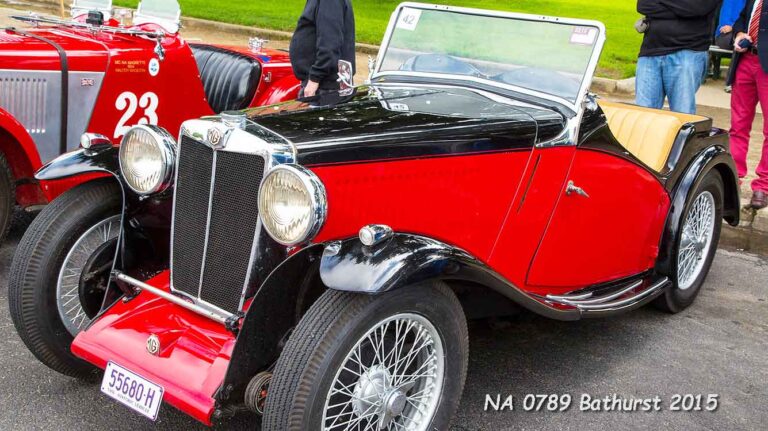 NB0789, new Duck soft top to pre-war design with new hood bows and new duck tonneau.
New Excelsior tyres only used at Bathurst.  Still has honeycomb radiator. Two-seater body with rear half in alloy, goes well .
Looking at $110k to cover all costs so far.  Steve Foldhazy, 0429 115 120 or email mgcgtsf@yahoo.com.au
List of M.G. themed books for sale.
Well known M.G. afficianado is letting go of some of his extensive M.G. Literature archive.
Andrew Fock is selling a range of M.G. literature on behalf of a friend.
Click on the link to open a PDF list.
Prices are in AUD, P & P extra.
Inquiries to Andrew via email: andrewfock@icloud.com
Wanted for P-type project
Wanted for the restoration of PA1499
Crankcase breather for twin breather engine.
I need the second breather that fits below the water branch side plates.
I'll even make one, if someone can provide the dimensions.
Lucas M35A Starter Motor
Lucas headlamps or parts. I have two battered & damaged headlamp shells.
Any parts or complete headlamps would be helpful.
Elliot Burns  Phone 0478 415405 or meburns66@bigpond.com
New member has just bought TA project, needs lots of mechanical bits:-
Front and rear springs
Front Trunnions
Steering parts
Front and rear brakes
Hand brake assembly
MPJG motor
TA Gear box
Diff centre and half shafts
Nigel Schofield  0419 176 900
M.G. M type parts for sale in South Aust.
This collection includes second hand and some new parts collected over a long period of time by myself and Mr Peter Kerr.
There are over 100 photos of these parts on a memory stick which can be sourced from me.  In this collection is included engine blocks and parts; steering columns and steering box parts; wire wheels; cycle guards; gearboxes; electrical parts, front ends and lots more.
We wish to sell the whole collection as one lot to the highest bidder.
Contact: Mike Greenwood 0412 701 850 mikeg@adam.com.au (posted 2-20)
M.G. SA project for sale in N.S.W.
Chassis no. 1852 built 1937, engine no. QPHG 2125
Original matching number car, complete and dismantled for restoration. 
Straight body, no sign of accident damage.  Some rust in sills and panel junctions. 
Some new parts available and somework carried out, including new timber body frame.
$35,000 negotiable.
Contact owner Russell Turner 0419 980 030 or email rturner.architecture@gmail.com
(ad posted 14-2-20)