A free service to advertise cars, parts,  goods or services relevant to Pre-war M.G.s.
If listing cars or parts for sale the full price must be included.
Cars must be identified by registration number and/or chassis number.
To advertise email the webperson
Advertisers are cautioned that scammers are everywhere – even here.
We all need to be wary of anyone asking for payment in advance.
If an offer seems too good to be true then it probably is!
This car was driven to 4th place in the 1935 Australian Grand Prix.
PA 0482 was imported by Lanes Motors and registered on 5 September 1934 to its first owner in Elwood.  
The car comes with a Duplicate Owner's Certificate from Vic Roads showing all owners from the first to the current.  From the original owner the car has been used competitively in various events right up to 2006.  A catalogue of stories and photographs illustrates this history.  Also detailed on this site.
I bought the car in 2008 and transported it to Perth – believed to be the first time it had left Victoria.  The car was comprehensively overhauled over 2 years; full details are available.  It is painted in two-tone Oxford and Cambridge Blues.  The car came first in class at the 2016 M.G.C.C. National Meeting and is concessionally licensed in WA.  The car runs on Blockley tyres.  The hood, frame and sidescreens are all in good condition; the tonneau is new.  Various spare parts (new) are included.  The car is located in Perth.
$65,000 ono.  For more details and photographs contact owner via email:
tony.bagshaw@chemicalsystems.com.au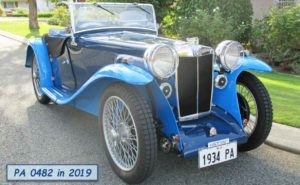 List of M.G. themed books for sale.
Well known M.G. afficianado is letting go of some of his extensive M.G. Literature archive.
Latest MMM Yearbook for sale
Andrew Fock is selling a range of M.G. literature on behalf of a friend.
Click on the link to open a PDF list.
Prices are in AUD, P & P extra.
Inquiries to Andrew via email: andrewfock@icloud.com
P-type literature for sale in W.A.
Wanted for P-type project
Wanted for the restoration of PA1499
Crankcase breather for twin breather engine.
I need the second breather that fits below the water branch side plates.
I'll even make one, if someone can provide the dimensions.
Lucas M35A Starter Motor
Lucas headlamps or parts. I have two battered & damaged headlamp shells.
Any parts or complete headlamps would be helpful.
Elliot Burns  Phone 0478 415405 or meburns66@bigpond.com
New member has just bought TA project, needs lots of mechanical bits:-
Front and rear springs
Front Trunnions
Steering parts
Front and rear brakes
Hand brake assembly
MPJG motor
TA Gear box
Diff centre and half shafts
Nigel Schofield  0419 176 900
Supercharger for sale in N.S.W.
Wade Ventnor R015 supercharger, currently set up for front mounting.
Has been checked and is good, comes with a Ki-Gass pump and  a blow off valve.
Ron Taylor 0418 413 613  $2800.00
Note: This is a purpose made 4-lobe supercharger.  Wade superchargers are highly prized by MMM owners. 
M.G. M type parts for sale in South Aust.
This collection includes second hand and some new parts collected over a long period of time by myself and Mr Peter Kerr.
There are over 100 photos of these parts on a memory stick which can be sourced from me.  In this collection is included engine blocks and parts; steering columns and steering box parts; wire wheels; cycle guards; gearboxes; electrical parts, front ends and lots more.
We wish to sell the whole collection as one lot to the highest bidder.
Contact: Mike Greenwood 0412 701 850 mikeg@adam.com.au (posted 2-20)
M.G. SA project for sale in N.S.W.
Chassis no. 1852 built 1937, engine no. QPHG 2125
Original matching number car, complete and dismantled for restoration. 
Straight body, no sign of accident damage.  Some rust in sills and panel junctions. 
Some new parts available and somework carried out, including new timber body frame.
$35,000 negotiable.
Contact owner Russell Turner 0419 980 030 or email rturner.architecture@gmail.com
(ad posted 14-2-20)