NA 0279
Magnette / Posted 1 year ago / 85 views
Information / History:

Imported in September 1934 by Lanes Motors of Melbourne and sold to Sir Hugh Devine a prominent surgeon who was to later found the  Royal Australian College of Surgeons.
Original registration was 5-628. In contrast to the other N types imported at that time, the car arrived with a full English 4 seater body.
At some stage pre-war it gained a front mounted  supercharger.  It was sold just Pre-war to Dr Bernard Clark but stripped its differential in 1943 and was put into storage.
The car was spotted by Max Steinberg in 1970's and eventually purchased. After a long restoration it was returned to the road in 1982 registered BJF 096.
The car was restored with the supercharger in situ but poor performance resulted in it being converted to carburettors* with the help of Graeme Pain. Steinberg used the car sparingly and by 1999 it had fallen into disrepair.
After considerable negotiation, the present owner (another Doctor!) purchased the car and returned it to running condition. The car has attended several national meetings as well as Beechworth and is regularly used on club events.
This may have had more to do with the valve timing being wrong, amongst other things, than the blower!!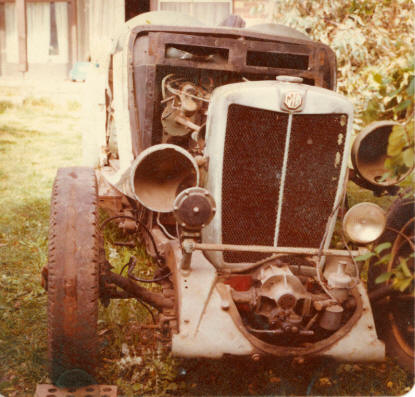 Magnette

:

NA

Chassis Number

:

NA 0279

Current Owner

:

Andrew Fock

Original Engine Number

:

556AN

Current Engine Number

:

556AN