26-8-20  Vale Aubrey Paverd.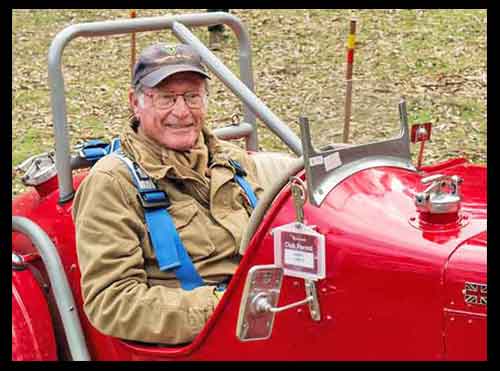 It is with great regret that we inform you of the passing of our esteemed member Aubrey Paverd.  Aubrey became unwell a few weeks ago and passed away this morning at 6.45am with Rene at his bedside.
Aubrey was born in South Africa and spent his career in the gold mining industry before ultimately settling in Australia.
Aubrey was a bit of an M.G. tragic owning 13 M.G.s ranging from a 1933 J2 through to a 2003 TF 160.  He also had a number of cars in England for use when he and Rene visited the UK and Europe.  He was also a dedicated collector of all things MG.
Rene and Aubrey joined the M.G.C.C. in March 1997 and were active members of the Pre-War, T, B and Racing Registers.
Aubrey's knowledge of various models of M.G. was very extensive. Members attempting to restore their cars sought him out for assistance which he gave freely. Whatever he undertook he completed to a meticulous standard and that led to his MGB winning the Club Concours many times.
Aubrey will be remembered by many as an enthusiastic competitor who shared his knowledge, enthusiasm and dry wit with his fellow competitors.
Our sincere condolences go to Rene and the Paverd family at this tragic time.  Aubrey will be greatly missed.
7-7-20  Ad for P-type literature posted in Buy and Sell.
Advance notice of 2021 Pre-war Register Rally posted in Coming Events.
Updated subscription forms posted under Newsletters.
3-4-20  Ads for bronze carbs and a blower posted in Buy and Sell.
25-3-20  Cancellation of all events until virus crisis is over.
7-3-20  Two past events added; Yamba 2019 and Concours 2020
14-2-20  Two ads added to Buy and Sell
2-1-20  Coming Events updated
Please note National Meeting entries are now open – go to the website for details or to place your entry.
Victorian Register Fragment 2020 Calendar added.
4-6-19  New site published
After an amateur attempt at a new site for the Register one of our more generous members has paid for this much improved professional site.
The site is hosted by the Victorian M.G.C.C. for the benefit of all Australian Pre-war M.G. owners.
The site includes Register cars however the records need updating and that is the next project.  It will take time but it will happen.  Owners are invited to send their latest images and historical research for inclusion.  Click here to make contact.
3-6-19  General update
Register visit and Winton races added to Past Events.
19-3-19 General update
Couple of old ads removed from Buy and Sell. 
Register meeting added to Past Events.  Coming Events updated.
10-3-19 Geelong All British Day added to Past Events
First public viewing of L 0640.
25-2-19 M.G.C.C. Vic Concours report added to past events.
9-2-19 Added coming events for 2019 and past events for 2018
3-2-19 Updates to Buy and Sell page.
F type withdrawn from sale.  M.G. J2 price adjustment.  M.G. NB added.
21-1-2019 – Site update – Victorian fragment personnel changes.
Also changes to state representatives.  See Contents page and About – the people, pages.
2-11-2018 – Site update – hacks removed, we hope.
It is a sad fact that in every endeavor there are people on the constant look out for opportunities to exploit others.  That is why we have the military, customs, police, watch dogs and locks on our doors.
Unfortunately some months ago my efforts to create a new website for the Register attracted the attention of hackers who managed to infiltrate our security measures and planted malware that redirected site visitors to other destinations.  Thankfully those other sites did not infect visiting devices as far as we know.
It has taken quite a number of attempts but we now believe the site to be clean and security has been improved.  Only time will tell if our efforts have succeeded.
In the mean time the M.G. news rolls on. 
October 2018 – M.G. SA emerges at Motorclassica
Another M.G. SA has been created by Harry and Cathy Hickling.  Its first public showing was at this year's Motorclassic held at Victoria's Royal Exhibition Buildings in October.