F Type 0525
Magna / / 501 views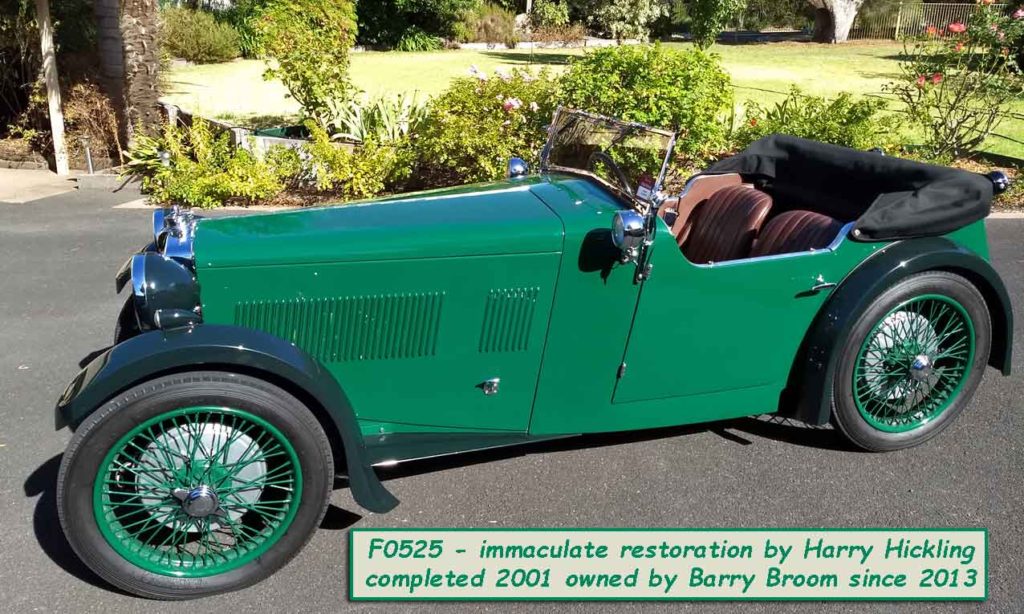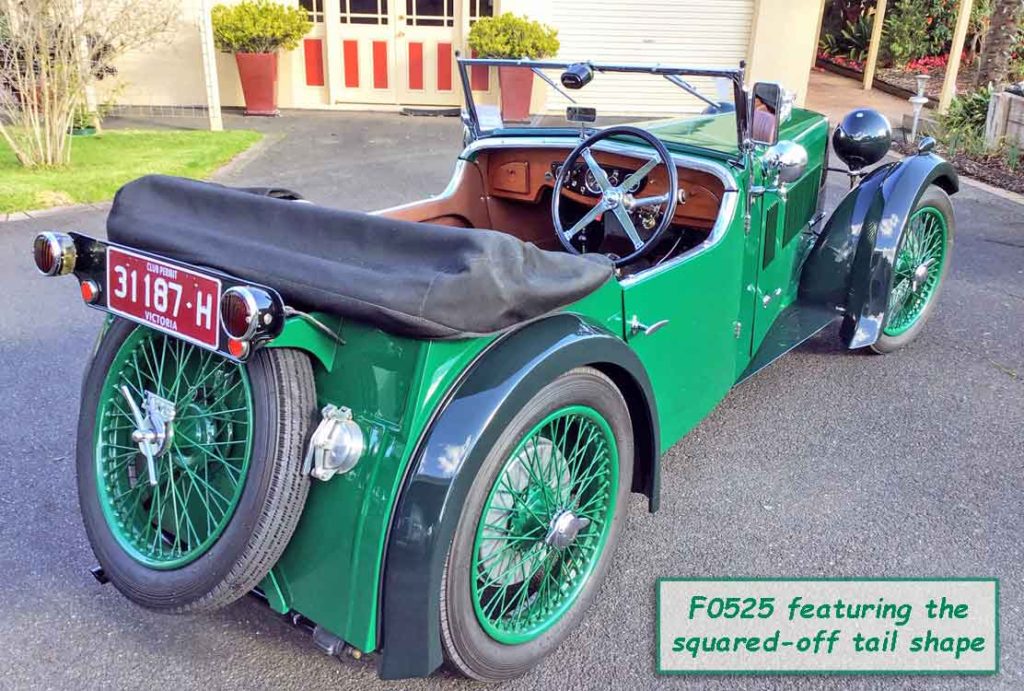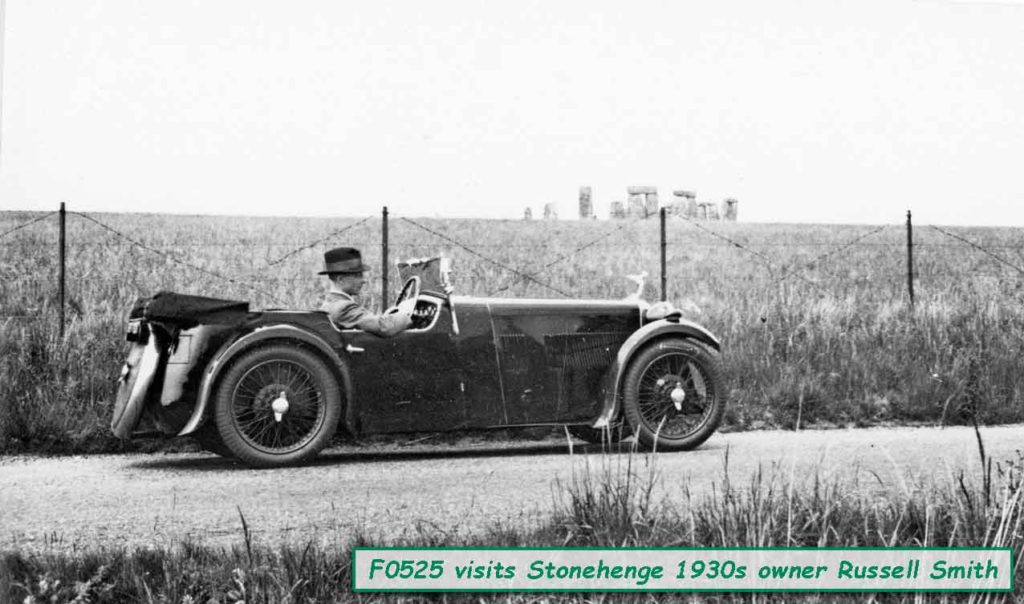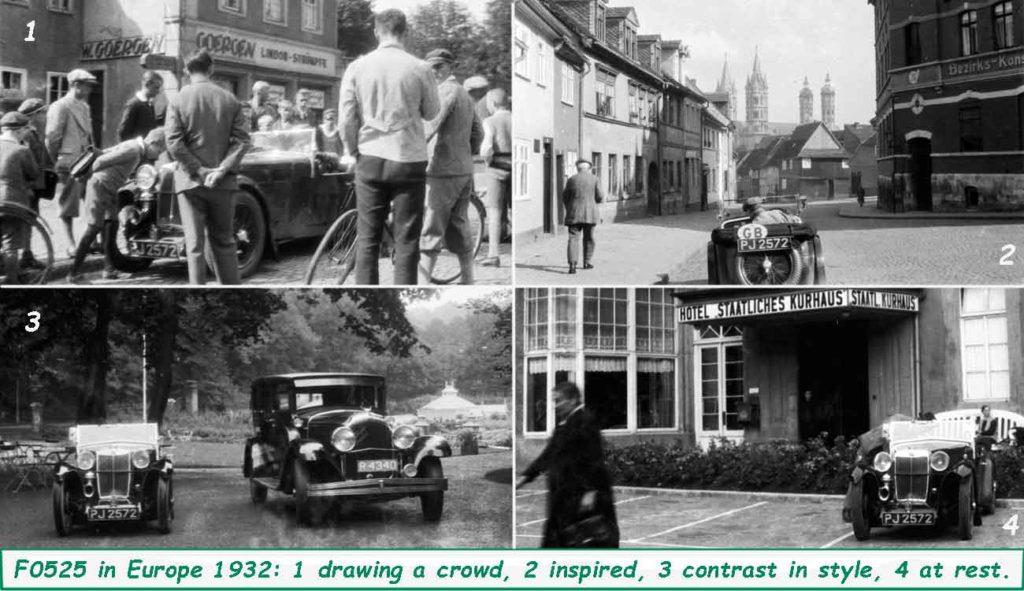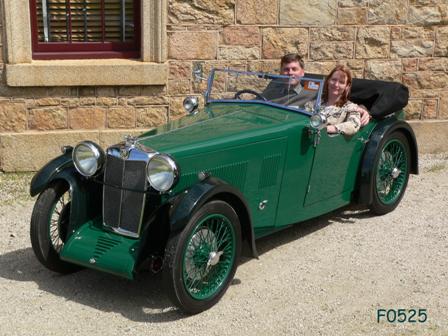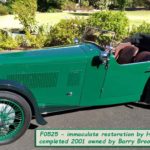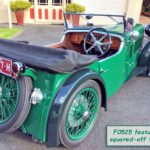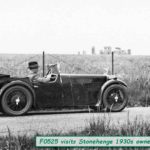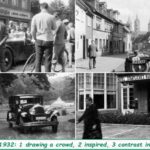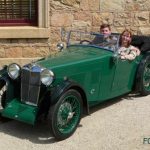 Current owner: Barry Broom, Victoria
MMM No. 2195.
Information: Delivered in January 1932 with standard F-type tourer body finished in black with brown trim.  UK reg. no. PJ 2572.
History:
F0525 was ordered from Cookes Motors in High Street, Sutton, Surrey, by Mr P.G.A. Smith.  Within a month it was back at the factory with 1200 miles on the clock to be decoked and a host of matters to be attended to, especially poor performance.  Despite this work, Smith must still have been unhappy about performance as the file shows Mr Thornley asserting that "At the time of writing, Mr Kimber has not tried out your car, but he will be doing so shortly."  Was Smith unhappy with the F-type's capabilities?  Did Cecil Kimber take it for a spin, and if so, what was his verdict?  These questions remain unanswered, but the file goes on to show that Smith took the car on a major tour of the Continent during August and September 1932.  In February 1934, the file shows that with 18,000 miles on the clock, Smith was thinking about up-dating his car but in the end decided to have F0525 "rebored and generally done up".
The next record of the car is from the early 1950s in New Zealand in its current form and usually referred to as the "Jarvis-bodied F-type".  The body is quite a bit shorter than standard and with a squared-off look reminiscent of the K1.  In 1970s the car was with Pat Griffith in Nelson who owned it for several years.  By this time, F0525 was fitted with hydraulic 12 inch brakes but was still otherwise reasonably sound and original.  Griffith treated it to a restoration which was to stand it in good stead for the next 20 years.
Griffith's restoration included new upholstery, dashboard and paint work and a host of smaller items to keep the car driveable and presentable.  In this form F0525 was exported to Australia in 1989 where it was bought by Colin Bardell who sold it to the Hicklings in 1991.
A full restoration was carried out by Harry Hickling over an eight year time frame and completed in time for the National Meeting in 2001.  It has since been a regular attendee at National Meetings and Pre-war Rallies.  Sold in 2013 to Barry Broom.
In 2019 a Mr B. Weston contacted the MMM Register offering a recently discovered family hoard of photographs and negatives, some featuring M.G. cars owned by Mr. Ronald Smith, they included images of M.G. F registered PJ 2572 on a tour of Europe.
Listing ID

:

1878

Maga

:

F Type

Chassis Number

:

0525

Year of Production

:

1932

Previous Owners

:

Harry Hickling, ACT. Colin Bardill, NSW. Pat Griffith, NZ. P. Smith, Surrey, UK.

Current Owner

:

Barry Broom

Original Engine Number

:

820AF

Current Engine Number

:

17295BF

Date Acquired

:

2013

Current Reg

:

31187-H Vic Club Permit