F type 1178
Magna / / 407 views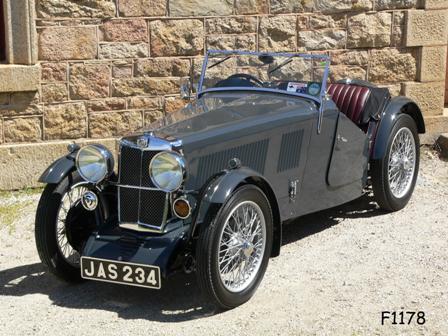 Current Owner: George and Marguerite Morgan
History: This car was initially purchased by a Mr. Sherrin Esq. London through University Motors on 2 June 1932 and was in F1, 4-seater configuration.
In recent times the car was rebuilt to F2 configuration by Mr. Tony Mowbray, Nottingham UK. Some mechanical work was completed by Mr. Barry Dean of Nottingham UK (Barry's red F1 car is featured on the front cover of Richard Monk's book – The MG Collection – The Pre War
Models).
On 1 June 2005 F1178 was purchased in the UK by George and Marguerite Morgan.
They took it to MG Silverstone on 22 – 24 July 2005 and was the "Pride of Ownership" winner for Class A. (Vintage/MMM/SVW) They then shipped the car to Melbourne and it arrived on  6h September 2005.
Listing ID

:

1888

Maga

:

F Type

Chassis Number

:

1178

Year of Production

:

1932

Current Owner

:

George and Marguerite Morgan