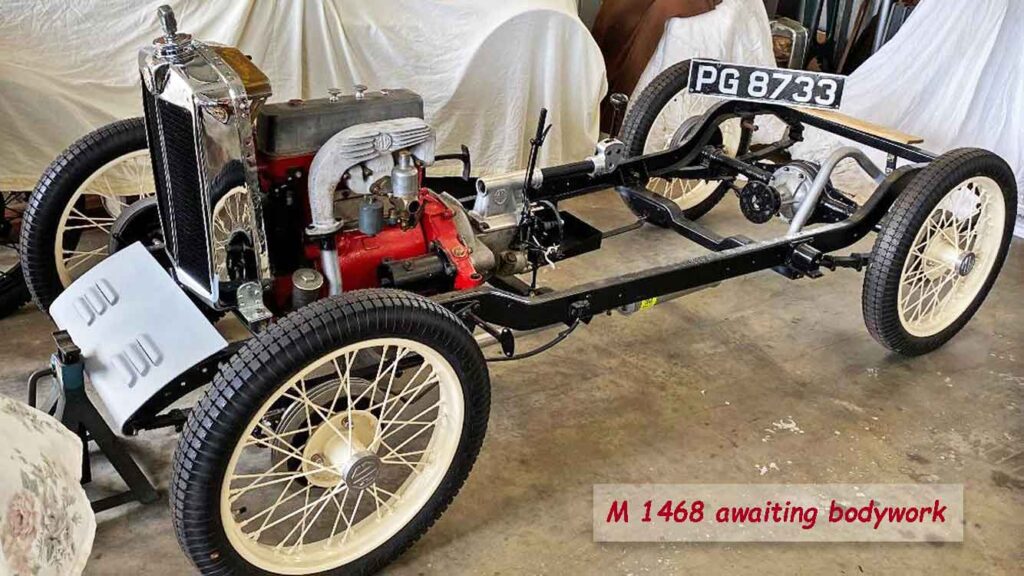 Current owner: Hilton Goodall, Queensland
MMM No: 790
Information: Built at Abingdon on 12/4/1930 (Kimber's birthday) as a 2-seat roadster for the home market.  Registered PG 8733 on 25/4/1930 to its first owner Robert Hy Everett, 94 Telford Road, Hull.
History: All former owners are known and listed below.  We don't know any history prior to the car's purchase by Bob Riches in 1972 while working in the UK.
He also purchased a body kit with the intention of restoring the car on his return to Australia.  The restoration did not happen and the car was passed over to Bob's son Andrew.  However Andrew was a Velocette enthusiast so decided to sell the car.
He placed the following  ad in the Austin 7 Club of N.S.W. Jan 2010 newsletter:-
"Little red 1930 M Type M.G.  A complete original vehicle dismantled and waiting for restoration."
Hilton Goodall responded and bought the car.
Listing ID

:

1769

Midget

:

M Type

Chassis Number

:

1468

Year of Production

:

1930

Previous Owners

: 1st owner Robert Hy Everett 94 Telford Road Hull England.
2nd owner Martin Joseph Beatty 14 G Mere Road Leicester England
3rd owner Alan Ernest Brown 68 St. Peters Road Leicester England
4th owner Joseph Watson Willder 7 High Pavement Belfer Derbyshire
5th owner Basil Morgan 10 Fairfax Road Derby England
6th owner John Claude Banfort 89 Reeves St. Derby England
7th owner Gordon William Goodwin 27 Sacheverel St. Derby England
8th owner John Trevor Mitchell 62 Hayden Rd. Chaddesden Derby England
9th owner David Patrick Newly 15 Magdala Rd. Cosham Portsmouth England
10th owner Percy Davy Warsash Rd. Titchfield Common Fareham Hants
11th owner BD Fraser-Harris 11 Exeter Rd. South Sea Hants
12th owner John Robert Scott 11 Havelock Mansion Havelock Rd South Sea Hants
13th owner John Robert Scott 25 Lowcay Rd. South Sea Hants
14th owner Stewart Gordon Love 162 Acefort Rd. Thorrter Heath Surrey England
15th owner Jorge Rodrigves 15 North Bourne Rd. London SW4 England
16th owner Bob Riches then Andrew Riches N.S.W.
17th owner Brian John Goodall Qld (2007) Hilton John Goodall (2008)

Current Owner

:

Hilton Goodall

Original Engine Number

:

MG 1140A

Current Engine Number

:

MG 1140A

Date Acquired

:

2010

Current Reg

:

HJG 46