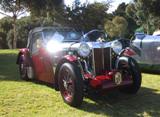 Current owner: Bucknell Family, South Australia.
MMM No: 1898
Information: According to the MMM Register this car was built in 1934 as a 2-seat roadster for the home market.
However there are some websites where the chassis is listed as EX154 which, according to the Hawke History, was last heard of in France in 1946.
The engine is described as having a new block with a capacity of 747ccs, supercharged using a Spitfire cabin blower and fitted with a bronze cylinder head from EX127; the 1935 record car built for Bobby Kohlrausch. EX127's engine developed 146bhp @ 7500rpm with 39lb of boost and was  driven by Kohlrausch to cover the flying mile at 140.6mph.  EX127 is presumed scrapped in Germany during WW2 but the engine survived and was installed in a special that was shipped to the USA after the war, from there the engine was brought to Australia.
Listing ID

:

2384

Midget

:

PA

Chassis Number

:

1668

Year of Production

:

1934

Current Owner

:

Bucknell Family

Original Engine Number

:

1930AP

Current Engine Number

:

New block