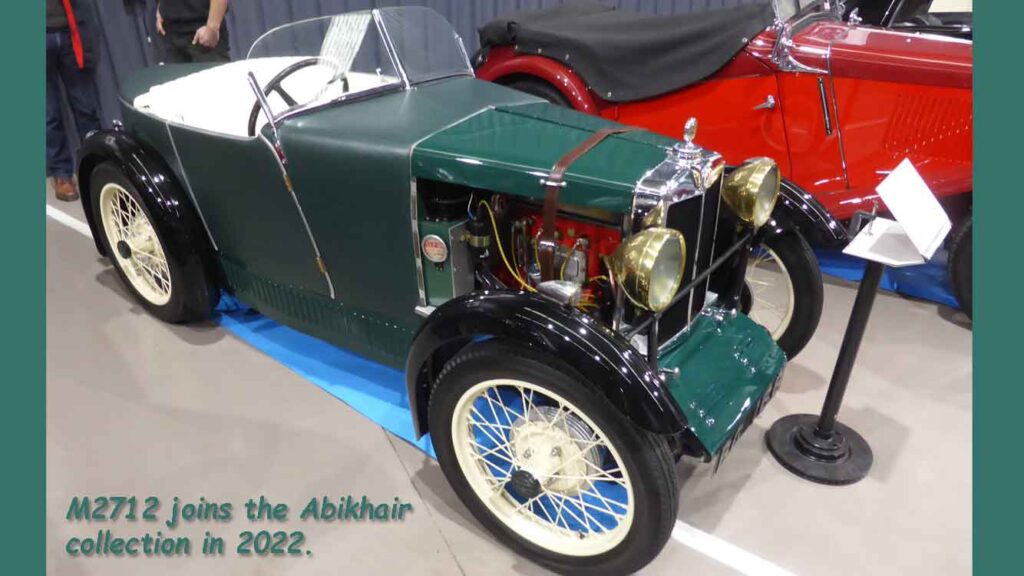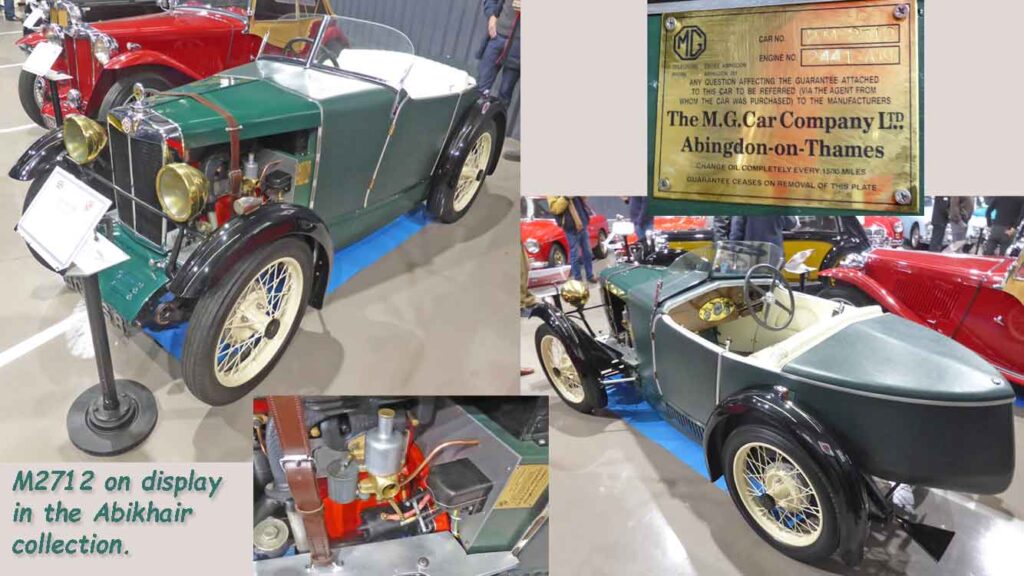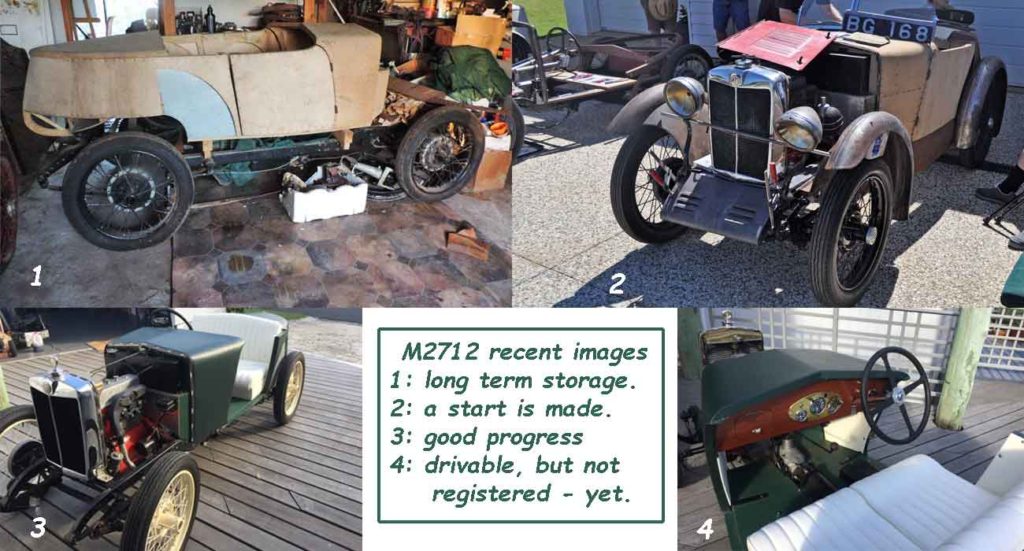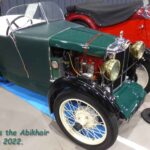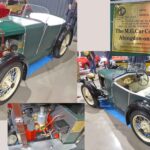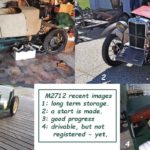 Current owners: Ray and John Abikhair, Victoria
MMM No: 1221
Information: Built in 1931 as a 2-seat roadster for the home market.  UK reg., BG 168.
History: written by Rob Dunsterville.
During 1974 when I was living in London, Brian Flowers and some others (in the M.G. Car Club Sydney) contacted me and asked me to locate an interesting pre-war M.G. for them to purchase.  I found an F-Type for sale which Brian agreed to buy and I negotiated the purchase and shipment to Sydney for him.
When I was contacted by an old school friend who knew of an almost completely restored M-Type for sale I offered this to potential Australian buyers.  Brian decided to buy that too so it was duly shipped to Sydney.
The sellers were two brothers, Roy and Rex Sevier, in their 20s with whom I had a passing acquaintance at school.  They had already restored a 1920s Rolls Royce to award winning condition.  They had bought it from M.S. Allcock who wrote on the receipt "To purchase of M.G. 'M' BG 168 at price offered of 250 pounds as seen, tried and approved – spares included" on 22 August 1968.
Mr Allcock had rebuilt the car over three years after purchasing it in a laid up condition.  He provided a list of what parts he had bought and the work he had outsourced and stated "The car is in good running order but there are a number of faults yet to be rectified (none serious)." There were eight listed and a list of spares included in the sale.
The Sevier Brothers exchanged letters with T. Wells in October 1970 regarding body plans and he wrote back on M.G.C.C. letterhead so was probably on the MMM Register's Committee.  Also they asked Barry Walker for spares availability and he sent a reply with a catalogue dated 1 January 1974 (the prices on which make interesting, if not mind boggling, reading today).
I can remember inspecting the car to give Brian a detailed description but cannot remember whether I saw if anything was missing (with two exceptions see below).  Thus I do not know at this stage whether it had a windscreen, hood bows, dashboard, instruments, electrical equipment, steering column etc. – but I presume so.  The engine and gearbox were included but I cannot remember whether they had been overhauled.  I believe the brothers had accumulated a complete car as I know they had the clear intention of driving it when it was finished in V.S.C.C.  At some point in the restoration process they decided to sell the car and buy and restore another – possibly another RR.
However, I did see that the correct front mudguards and the louvred chassis valences were missing.  So, knowing it would be difficult for Brian to find replacements in Australia, I set about an appropriate search.  By good fortune from asking around 'the traps' I managed to find these parts newly remanufactured by a chap who was building the "Excalibur" Mercedes replicas.  A customer had ordered them but neither paid for or collected them.  He said that if that person ever turned up he would make them again.  These parts were added to the shipment.
From several conversations with him over the years Brian indicated that he had not made any progress with the restoration of either the F or the M-Type.
Ken Macken bought it from Brian (his neighbour of some 33 years).
Purchased by John Crighton in 2018 partly restored and John completed the restoration however the car was sold in 2022 when another M.G. took John's fancy.
Listing ID

:

1776

Midget

:

M Type

Chassis Number

:

2712

Year of Production

:

1930

Previous Owners

:

M.S. Allcock, UK, >1968. Sevier brothers, UK, >1974. Brian Flowers, NSW. Ken Macken, NSW, >2017. Brian Goodall, Qld >2018. John Crighton >2022.

Current Owner

:

Ray and John Abikhair

Original Engine Number

:

MG 2441A

Current Engine Number

:

MG 2441A

Date Acquired

:

2022