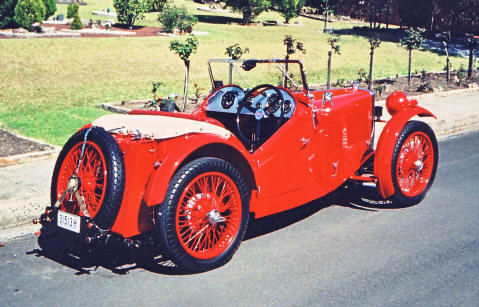 Current Owner: Dorothy & Paul Acfield, Victoria
Information:
1933 MG J2 Midget Roadster
This J2 came off  the assembly line on the 20th of May 1933, and was imported from the United Kingdom in 1979. John Holliday purchased the car in 1985 and over a period of six years undertook a total restoration back to the original specifications (with the exception of fitting a counter balanced crankshaft).
Since 1992 the car has won seven concourse events outright, including three successive wins at M C National Meetings, and 24 class wins.
J2 3380 has been featured in several Club Magazines, Australian Classic Car (November 1998, 1999 Yearbook and August 2000), MG Magazine (No. 72, 1999), British Car (June/July 1999), The' Automobile (October 2000) and The Hill News (3rd of September, 2002).
Paul acquired the car in 2015.
Listing ID

:

1829

Midget

:

J2

Chassis Number

:

3380

Previous Owners

: John Holliday

Bill Rutty
Bob Hadaway

Current Owner

:

Dorothy & Paul Acfield