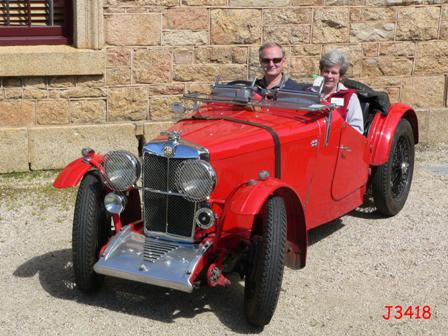 Current Owner: Jennie & Graeme Jackson, Victoria
Information:
Gary Grant bought the J2, registered ALH233, in the UK in 1967, brought it back to Australia and sold the car to Alan Bail in 1968.  By 1982 Alan's enthusiastic driving resulted in a thrown connecting rod, and the car passed wounded, with a non-standard crankcase inspection opening, to the Jacksons.  A fresh engine was cobbled together and the little MG has run in competition and in touring events every since.  So after 72 years J3418 has not yet been restored, but somehow survives in active use after being tarted up by successive owners.  Although being a bit tired, the car still gained places at Historic Winton in May 2005, as it has for the majority of the last 23 years.
Abingdon knew how to build a delightful and durable sports car, which go faster if they are painted red.
Listing ID

:

1832

Midget

:

J2

Chassis Number

:

3418

Current Owner

:

Jennie & Graeme Jackson