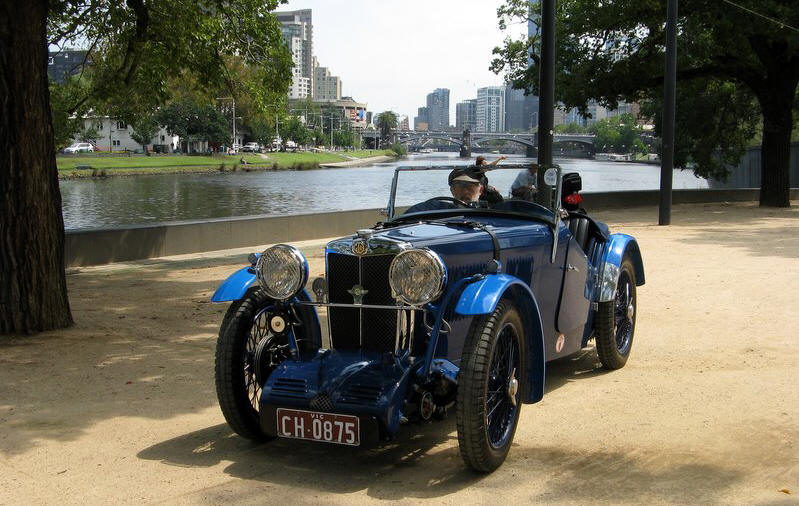 Current Owner: Ed Taylor, Victoria
Information:
MG J3, chassis J3762 – Early history and competition record
There are no known records of the cars early years in the UK. It was exported to Australia in 1934 and first registered in Victoria on 14 February 1935, almost exactly two years after it left the factory. The car was blue originally and seems to have stayed that colour until the late 30's / early 40's.
The original Australian owner is not known, but could have been Hope Bartlett (from NSW) or Bert Oliver (Vic). During these first few years it was probable that the car raced and entered numerous sporting events often as part of the Britannia Motors Team.
Based on some contemporary records and the recollections of some of the subsequent owners, the following are some of the cars early sporting activities.
4 Jun 1934     M Wreford (for Britannia Motors) LCCA Winter 100 (Philip Island)
Early Jun 34    Hope Bartlet purchases the J3 from Britannia Motors and takes it to  NSW
14 Oct 34      NSW LCC Reliability Trial, Hope Bartlet
Nov/Dec 34    NSW LCC Championship meeting, Hope Bartlet
1936 ???        Lobethal, South Australia. According to the cars owner in the early 40's (A Bird from Balliang Victoria) the car recorded a lap record at this track.
1936 – 1937   From Photo, what looks like a Victorian Light Car Club 1/4mile sprint, possible at Point Cook RAAF Base, Ces Warren driving.
29    Aug 36   A. Oliver J3 (retired), LCCA Midnight Trial
22 Aug 37      A Oliver, LCCA 12 hour trial (retired)
23/24 Oct 37  LCCA COR Petrol & Reliability Trial, A H Oliver, J3, 44.58 mpg
2 Nov 37        Vic Sporting Car Club, Cup Day Races, A H Oliver, (Retired Race 1, Finished Race 2)
26 Nov 37      J3762 purchased by S Edwards (Britannia Motors)
From the Britannia Motors records, Bert Oliver sold the car on 26 November 1937 for 117 Pounds. The car hung around for a while, acquiring a new piston in number 4 cylinder, headlamp, re-upholstered seats, 2 L type dash lamps, re-bush starter motor etc and being re registered DC 383 (Victoria). It was finally sold on 16 August 1938 to John Barraclough in Sydney who competed in it for a short period, the only known event being;
Sept 38     ADCA Wisemans Ferry Trial (NSW), J Barraclough, 2nd class overall
By the 1940s the car was again in Victoria and had a number of country owners
finishing up in a totally dismantled state under Bill Gibson's house and some bits in his uncle's chook shed near Bacchus Marsh.
Ed Taylor purchased the car in this state in 1969 recovering all but the original blower and a number of engine components.
An Arnott blower was obtained from Geoff Coles and a full restoration was undertaken.
The car is fundamentally original and has all major original components and Ed uses the car at every possible occasion and it has a very successful current competition record.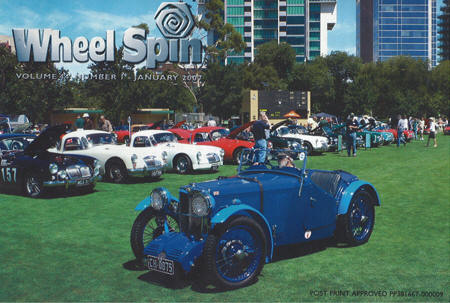 Listing ID

:

1855

Midget

:

J3

Chassis Number

:

3762

Year of Production

:

1933

Previous Owners

:

L Dennis (UK), S Frazer (UK), Britannia Motors (Vic), K Bartlet (NSW), A Oliver (Vic), S Edwards (Vic), J Barraclough (NSW), R Bird (Vic), A Hallett , J Watson, D Watson, B Gibson

Current Owner

:

Ed Taylor

Original Engine Number

:

1566

Current Engine Number

:

1566

Current Reg

:

CH 0875