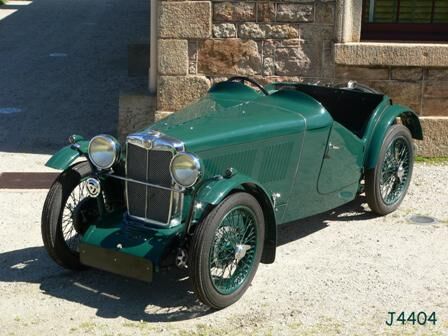 Current Owner: John Murn, New South Wales
MMM No: 1136
Information: Delivered to University Motors 15/12/1933 as a swept-wing 2-seater for the home market. According to the original papers it had a red interior, green body and wheels and registered AXE 105.
History: Detailed PDF by John Marn here; summarised below:-
The car was sold on 20/12/33 Miss Maud Jenkins, 11 Oakhill Park, NW3 London, a finishing school.
It was brought to Australia by Cliff Trefry in the late 1981 and purchased by John M., in the 1984. He ran it at historic meetings in regularity for a few years until its pitiful condition finally got to him and a (very) long restoration commenced. In recent times progress has been reported from time to time, in Australian Classic Car magazine. It is the subject of an older local restoration, partially documented in a series of Australian Classic Car Magazine articles. The frame, body and paint was by Sydney Vintage Restorations. Most of the other work was done by Bob Winley at his Amaroo Park workshop.
Listing ID

:

1809

Midget

:

J2

Chassis Number

:

4404

Year of Production

:

1933

Previous Owners

: Miss Maud Jenkins, London UK, 1933-?
Cliff Trefry NSW 1981-'84

Current Owner

:

John Murn

Original Engine Number

:

2981AJ

Current Engine Number

:

35747A [Morris Minor block?]

Date Acquired

:

1984

Current Reg

:

Unreg