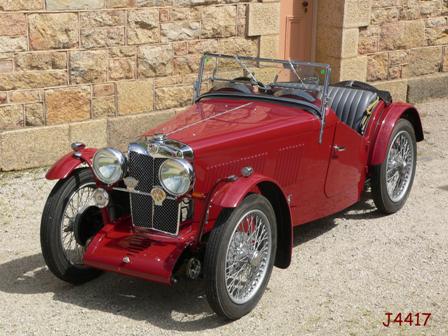 Current Owner: Ian Head, Victoria
Information:

This J2 arrived in Melbourne in May 1933 with three other J2's, 4414, 4415, 4416 and was  delivered to Lanes Motors and then to motor dealers British Sports Cars in Preston.
It was the fourth last J2 assembled.  The last J2 being 4420, which was assembled in December 1933.
Don Smyth purchased the chassis and a trailer full of bits which proved to be liberally laced with TC parts and embarked upon a massive restoration.
He was fortunate to obtain a gear box in pieces, a block and a lot more bits from Graeme Jackson, plus a lot of help and encouragement from Glenn Bishop.
The restoration took 4 1⁄2 years and was completed just prior to the Beechworth event.
Listing ID

:

1834

Midget

:

J2

Chassis Number

:

4417

Year of Production

:

1933

Previous Owners

:

Maxwell Hobson, Vic.

Current Owner

:

Ian Head

Current Engine Number

:

1747A

Date Acquired

:

2014