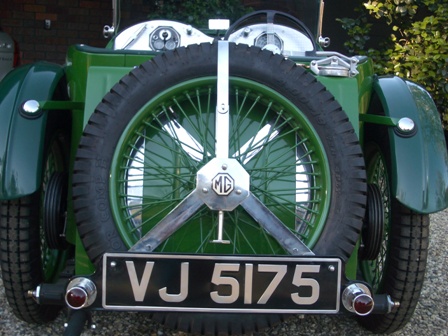 Current Owner: Chris Lamrock, Victoria
Information:
Registered greater London – delivered 18 April 1933. Problems with the head and the dynamo in the first year. Dynamo problems were a constant problem
Car laid up in 1965 in Leigh Lancashire
Acquired by Barry Walker
 Imported as a basket case in 1974 Rob Dunsterville acting on behalf of Phil Readhead Dismantled by George Goodare . I acquired it as boxes of bits in April 1979. Body restored with all new timber. Panelled and painted at North Syd Tech. Chassis completed and rolling. Gearbox rebuilt with parts supplied by Needham  New crown wheel and pinion. Car was then destroyed in a warehouse fire in 1986
Second rebuild commenced. Chassis rails shot peened to regain strength Timber kit imported . Body assembled and paneled at North Syd Tech Painted at NS Tech The only reused panel was the scuttle humps . Off to England on a parts buying spree . Sourced all alloy components including gearbox Made and shrink fitted alloy brake fins Rebuilt gearbox and machined many fittings at Ultimo Tech. All chrome at Ultimo tech All engine machining at Ultimo tech Front axle set up on surface plate at Ultimo Tech
My thanks to John Needham and Ray Skewes for their contribution when I didn't have access to machinery.
Modifications/Restoration: Restored and running
The car is not quite original It has a Phoenix crank with slipper bearings, full flow oil filtration, lightweight clutch with modern plate  Visbly the door locks are not correct . Awaiting correct pattern From Barry Walker 2 brush dynamo mods. and electric coolant fan to Tripple M yearbook pattern no extra holes so easily converted back
Listing ID

:

1825

Midget

:

J2

Chassis Number

:

J2 3018

Year of Production

:

1933

Previous Owners

:

1933 FH Hickman – London, A Burgess Leigh Lancs 1963, M Marshall Leigh Lancs 1964, Barry Waler 1973,Phil Readhead 1974, George Goodare 1977, Chris Lamrock 1979

Current Owner

:

Chris Lamrock

Original Engine Number

:

1817AJ

Current Reg

:

VJ5175 (uk)