L type 0594
Magna / / 422 views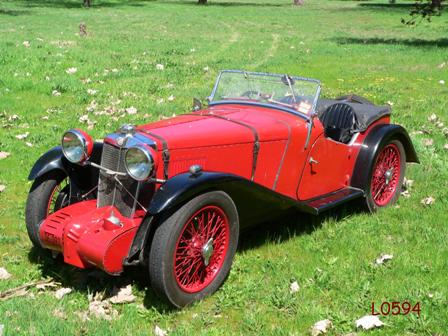 Current Owner: James Earl, Victoria
History: This car was manufactured on 5th October 1933 and shipped as a rolling chassis to Lanes Motors on the Orsova. It was transferred to Brittania Motors who sold it to 36093 Kennard on 23 November 1933 and it was registered Vic 36093. A close coupled  four-seater body was built by C.F.S. Aspinall and sold to Ray Anderson of Toorak.
The car, painted red with black guards, was entered in the 1934 AGP by Ray Anderson with Peter Dale as the riding mechanic. Ray Anderson was an associate of Cec Warren but the car apparently was not part of the Brittania Motors team. Anderson did not complete the race retiring with valve gear problems on lap 21.
The car was entered in many events over the next few years with various owners and drivers. In all the car has had 21 owners and had been repainted white, green red and back to red/black again and has been re-bodied once.
Of interest is that the car for a time had engine 530A69K which was from K3010, the missing K3. K3016 the famous Otto Stone K3 unfortunately now living overseas has the original engine from L0594. Also of interest is that the guarantee plate for this car was incorrectly stamped in the factory and the true car number was not determined until a total strip down of the chassis revealed all.
The present owner purchased the car from John Firth-Smith in 1965 and over the years has developed a car which as well as being quick is extremely reliable.
Listing ID

:

1917

Maga

:

L Type

Chassis Number

:

0594

Current Owner

:

James Earl