L type 0638
Magna / / 369 views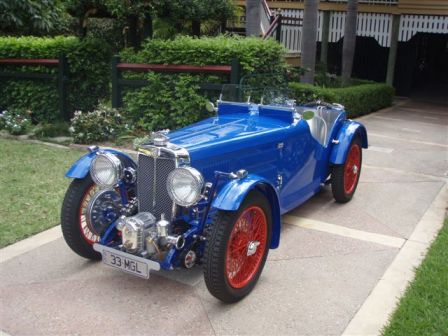 Current Owner: Unknown
Information: Supercharged, ENV preselector gearbox, 2 seater aluminium body. Hydraulic brakes.  Building of car in current configuration was commenced & substantially completed by John Butterfield. It was John's intention to have a fast road/ racing M.G.
Car and engine has been rebuilt in Brisbane, (principally by Joe Wilson and Park Motors) to bring it back to period specifications.
Car was completed to high standard by owner Ross Kelly and appeared at Pre-war Register rally 2011.  After an Australia-wide advertising campaign for 13 months the car was sold overseas.
Listing ID

:

1927

Maga

:

L Type

Chassis Number

:

0638

Year of Production

:

1933

Previous Owners

: Lanes Motors import
Mar-34
Supplied to Brittania Motors
Prior to 1960's no known history
Bill Pickett (possible)
David Marment *
1960

Angus McBain *
Robert McVicker *
Col Conway *
1979

Ron Gaudion *
1993
John Butterfield *
2002
Ray Delaney
2003

Ross Kelly
*
from VCCQ "The First 50 Years"

Current Owner

:

Unknown

Original Engine Number

:

972AL

Current Engine Number

:

33 MGL