L type 0546
Magna / / 417 views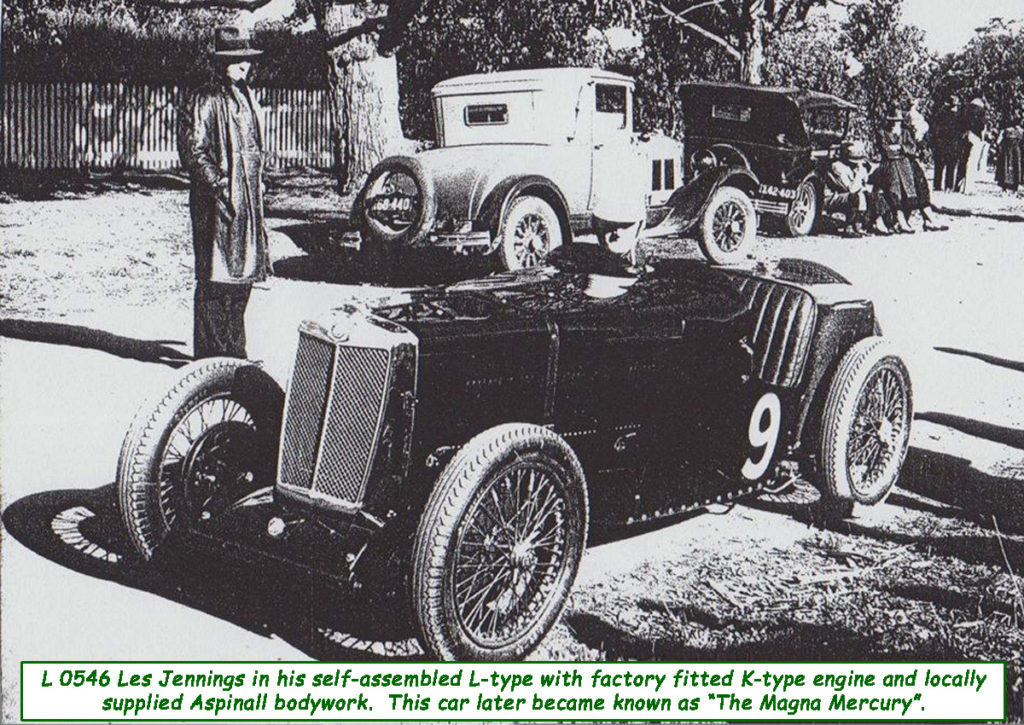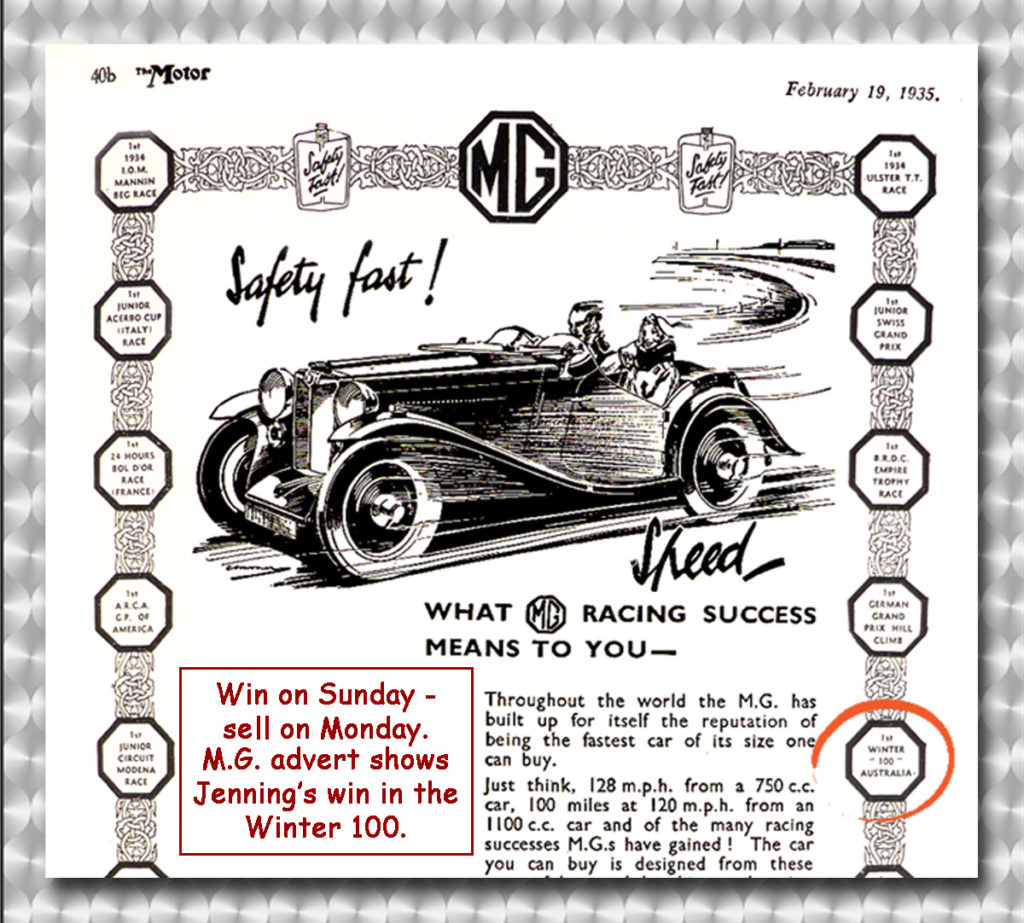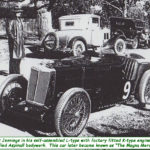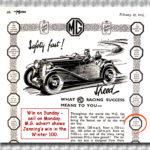 Current Owner: Gary Grant, Victoria
History: 1934 Winter 100 Winner, later known as Mercury Magna.

This Magna was supplied to Les Jennings via Lanes Motors in early November 1933. The car was not even in rolling chassis form with many parts contained in hessian bags. The engine supplied with this car was not a standard L-type engine but rather a K-type motor from the factory competitions department (engine number 26KAS).  By 7 December, Les had fitted an Aspinall body almost identical to that on the F-type and registered the car Vic 8-551.  Les had much success in this car coming fourth in the 1934 AGP and winning the Winter 100 in the same year.  L 0546 was continually developed to maintain its competitive edge, and by 1943 after a number of owners it was acquired by Ross Davidson who fitted a 1945 side-valve Ford Mercury V8 motor with aluminum high compression heads.
The car, registered Vic FR 216, inherited the name of "The Magna — Mercury".  Full details were recorded in an article featured under the Australian Specials column in the September 1947 edition of Australian Motor Sports.
As an aside, the original Jennings K-type engine was mentioned in the earlier May edition of AMS, in another Australian Specials column — No. 9, "The M.G. Magna Special" (Registered Vic 145-336).  At that stage, this Magna was owned by Bib Stillwell, who had acquired the surplus engine as a spare from Ross Davidson.  This car has since disappeared so the register is keen to hear of any news of the ex-Stillwell car.  The ex-Jennings K-type engine was ultimately acquired by Dino Mattea for his rebuild of chassis L 0657.
But back to L 0546.  The 1948 June edition of AMS records "R. Davidson with his MG Magna powered with a Mercury V8 motor made fastest time of the day at Killara Park on March 9" and the May 1947 edition records "Clubman Speed Trials — Held at Packenham Air Strip on May 17 — Fastest lap to R. Davidson driving the Magna Mercury".  The June 1952 edition of AMS records an advertisement for the car, the seller's details being John F. East, Verney Rd, Shepparton, Vic.
Gary Grant from Geelong recalls seeing the car in the mid-60s at an M.G.C.C. Motorkhana at Ripleys Bridge (near Bacchus Marsh) when owned by Jim McDonald who had fitted a BMC B-series engine.  Gary took a number of photographs and subsequently showed them to local Geelong motor racing identity and engineer Murray Rainey.  Murray recalled that the car had been acquired by another Geelong motor racing identity Tom Hawkes in the late 1940s and on his behalf Murray had fitted a more robust rear end.  Tom enjoyed a number of successes with the car and he later sold it to Johnny Major in Geelong (who had a Tow Truck and Crash Repair business).
Gary is an enthusiast of Geelong motor sport history and has put together an interesting collection of cars that are part of this history.  He remembers recording the details of L 0546 at the time. His next encounter with the car was in the late 60s when he saw it in a car park near the Melbourne Pharmacy College in Royal Parade, Parkville, Melbourne.  He ultimately met the driver who owned it in partnership with a relative (Terry O'Keefe) and asked that if ever it was offered for sale, then he be given first refusal.  Terry called him in 1974, however Gary could not afford to buy the car at the time (having just acquired a 3-Litre Bentley) and instead convinced his brother Robin (Rob) to buy it.  Rob went on to commence the restoration of L 0546 returning it to its original 1933 configuration with the correct L-type engine.  Gary acquired the car from his brother in 1983 and has since completed the mechanical restoration and the major part of the bodywork.  Gary has recently retired and hopes to complete the car in the immediate future.
History written by Tony Sloan
Listing ID

:

1915

Maga

:

L Type

Chassis Number

:

0546

Year of Production

:

1933

Previous Owners

: 33 Les Jennings, 43 Ross Davidson (fitted V8 engine) Tom Hawkes, Geelong, Johnny Major, Geelong, John East, Shepparton, '60s Jim McDonald, (BMC eng) Melbourne, '70s Terry O'Keefe, Melb., 74 Robin Grant, Geelong, 83 Gary Grant, Geelong.
Robin Grant

Current Owner

:

Gary Grant

Original Engine Number

:

27KAS