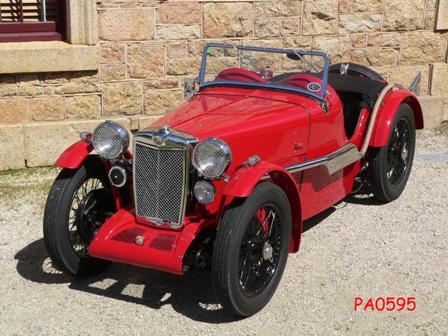 Current Owner: Jennie & Graeme Jackson, Victoria
History:

The car was imported by Lanes Motors in September 1934 in chassis form, fitted with a pre- selector gearbox, clearly with competition in mind.  Aspinall constructed the doorless body in time for it to run in the Centenary 300 race at Phillip Island on New Years Day 1935, race number 25, registered 79-063 and driven by Campbell Graham.  The car crashed on lap 24.  It was subsequently repaired and enjoyed life as a dirt track racer until retired to a shed in Nowra in 1940.
 When purchased by the Jacksons in 1990 some work had been done on the M.G. which was remarkably complete but now fitted with a normal P type gearbox.  Restoration was achieved by 2003 when the  car ran for the first time in 63 years.  The chromed outside exhaust with Brooklands muffler and fish tail may not have been in the car's original race trim, but if you have a doorless body you have to do it, don't you?
History of PA0595 from Mathew Magilton archives below.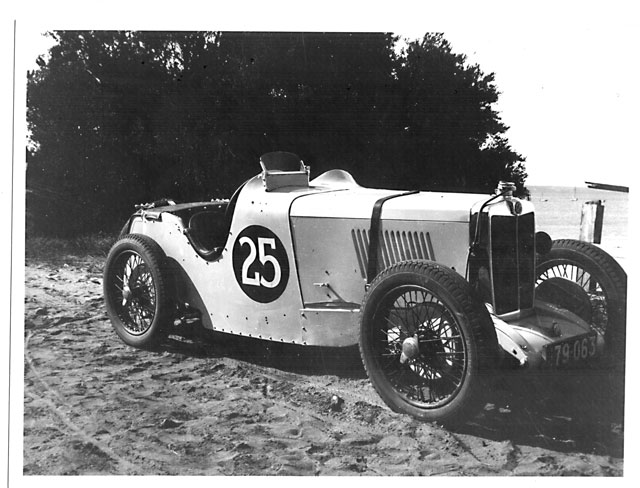 Race ready and sitting on the sand at Phillip Island prior to the Centenary 300 being run by the ARDC is PA 0595. This car was imported by Lanes Motors with a rare ENV gearbox and fitted with an Aspinall body. Campbell Graham of Warrnambool took delivery from Lanes in September 1934 and competed in the Victorian Centenary G.P. in October, but prior to this PA 0595 was driven by Bill Thompson (head of Lanes M.G. Dept) in the Phillip Island Winter 100 coming home 7th as part of the Lanes team. At the Centenary 300 Campbell was part of the Lanes team entry with Roy McKay and the ultimate winner Les Murphy, all in white P types. Tragically Campbell and his riding mechanic Jack Peters were killed when their car rolled at The Needles Eye, a narrow part of the straight approaching Hell corner on New Years Day 1935. After many years of storage P 0595 was bought dismantled from Peter Swan by Ian George who commenced a detailed restoration which was completed when ownership passed to Graeme Jackson.
From the David Smallacombe collection.
Listing ID

:

2293

Midget

:

PA

Chassis Number

:

0595

Year of Production

:

1934

Current Owner

:

Jennie & Graeme Jackson