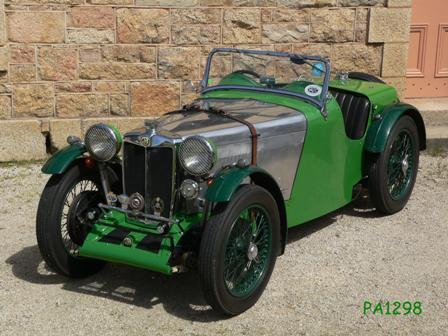 Current Owner: Graeme Steinfort, Victoria
MMM No: 2432
History:

PA1298 was imported by Lanes Motors in October 1934 and after being fitted with a body by C.F.S. Aspinall delivered (new?) to H. N. (Bon) Reeve in May 1935.  Bon competed in the car over the next three years with considerable success.
It was also owned by "Mini-wizard" Peter Manton who raced it, taking a class record at Rob Roy Hill climb in 1948.
Laurie Rofe owned it and wrote about the car's scintillating performance when fitted with the most developed "head" – it had three in various states of tune, giving more credence to its provenance as a racing car.
Barrister Peter Martin next owned it, before John Liebert then to the present owner.
Listing ID

:

2331

Midget

:

PA

Chassis Number

:

1298

Year of Production

:

1934

Previous Owners

:

H.N. Reeve, 1935. Peer Manton late 1940s. Laurie Rofe. Peter Martin. John Liebert.

Current Owner

:

Graeme Steinfort

Original Engine Number

:

1540AP

Current Engine Number

:

1533AP

Date Acquired

:

1987