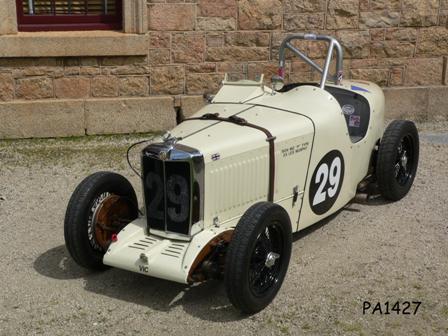 Current Owner: Graeme Steinfort, Victoria
History:
Graeme purchased PA1427 from Walter Magilton in the 1970s, surprised that he would even consider selling such an Historic Car!  Walter was going to Europe to paint and that was the obvious excuse.
The car was dismantled and was typical of a racing car that had been raced and raced into the ground.  It had been fitted with a 1930s Vauxhall engine, but Walter installed a P-Type engine and used the car in a number of VSCC events, particularly at the Lakelands Hillclimb where Graeme first saw it, (and lusted after it).
He was anxious to "complete the set" as he already had PA1298, and it would end the debate as to whether Les Murphy had two cars.
In 1936 PA1427 won the AGP at Victor Harbour in South Australia.  This provided the incentive to get it ready for the 1978 celebrations of the 50th Anniversary of the AGP which were held at Phillip Island.  It was ready in time, and Graeme was fortunate to have Les Murphy drive him around the original circuit in the "demonstration".
On the following day, in the 50 mile race, PA1427 was pitted against John Needham in his Austin 7 Ulster.  It was great fun despite the rain.  Thereafter, PA1427 raced at Winton and Phillip Island and eventually Ian McLennan took the car under his wing, and its present condition is to his credit.
There 7 owners after Les Murphy making a total of 8 owners in all.  Les claimed to have won the 1938 AGP at Bathurst in the car, but due to a lap miscount the place was denied him.  He did not protest as his wife was unaware that he had gone back on a promise to not race again!
It is a sweet and stable car to drive, where one gets a feeling of great security in cornering.
The secret of Les Murphy's success with MGs was to have a large capacity fuel tank (unbeknown to his competitors) to avoid pit stops and also to have a "light weight" mechanic to match his own small stature.  Needless to say that, in addition to impeccable preparation, he was a very good driver which he amply demonstrated with many victories on the track.
Listing ID

:

2318

Midget

:

PA

Chassis Number

:

1427

Current Owner

:

Graeme Steinfort

Date Acquired

:

1970