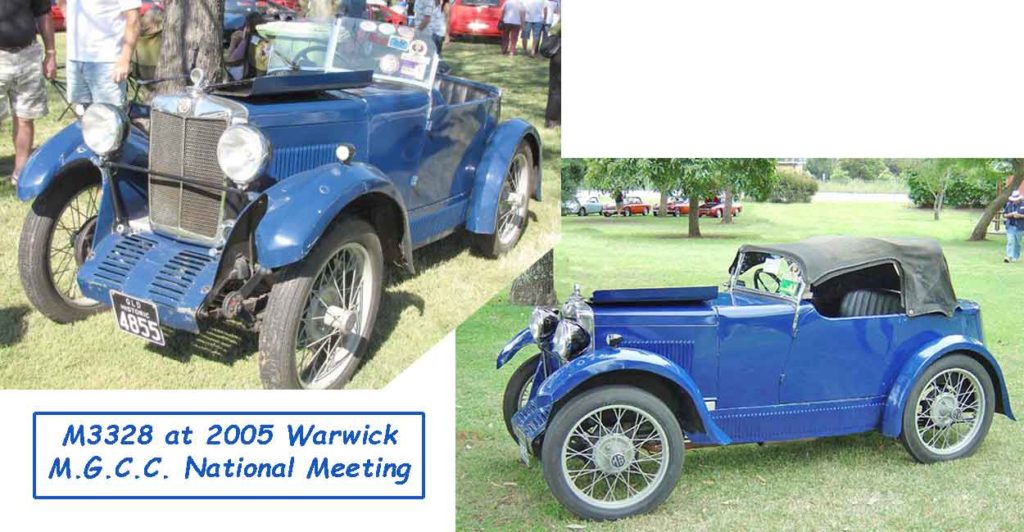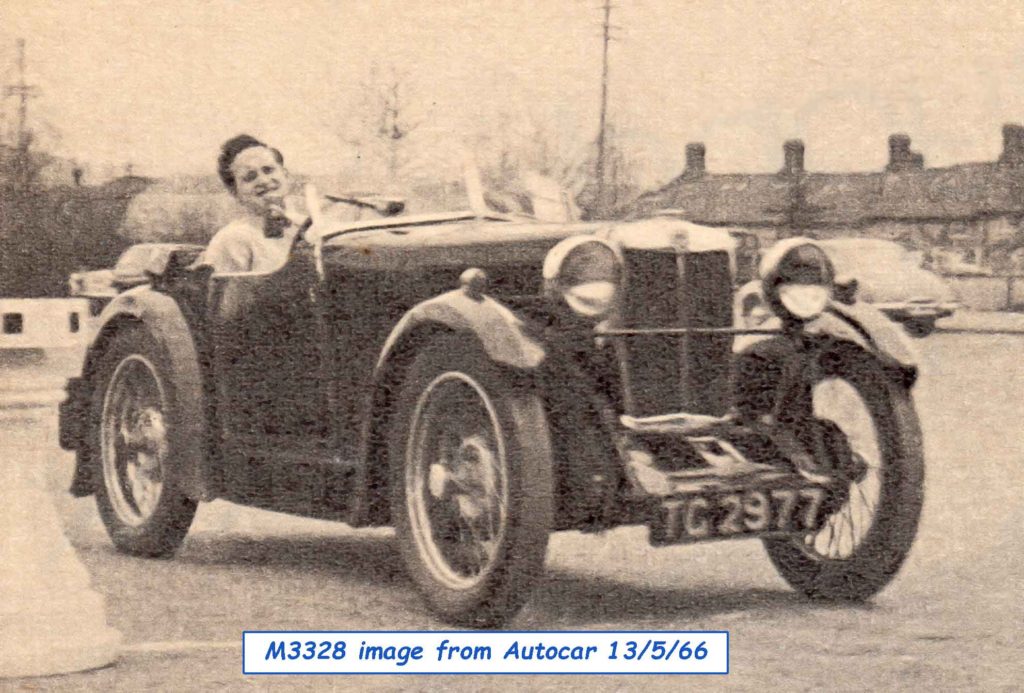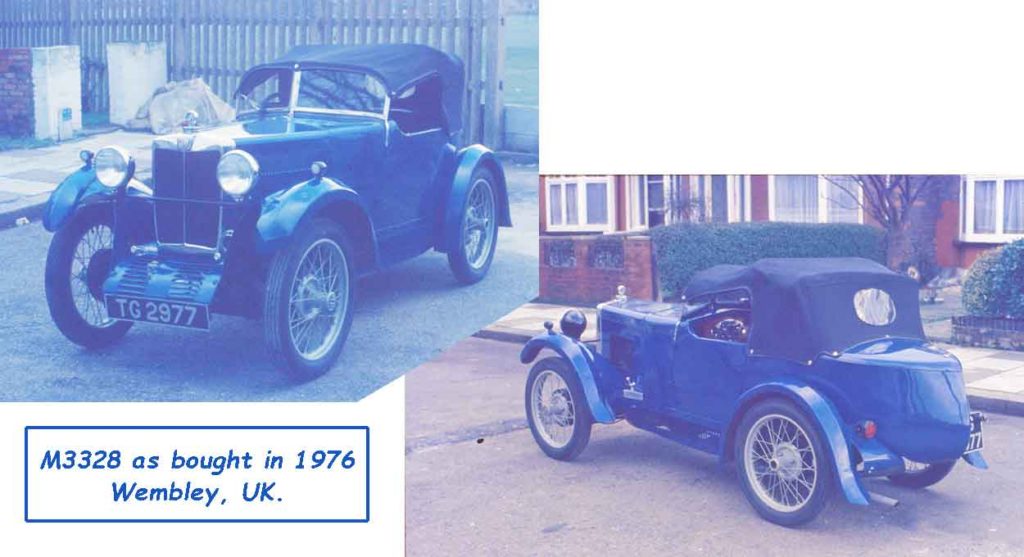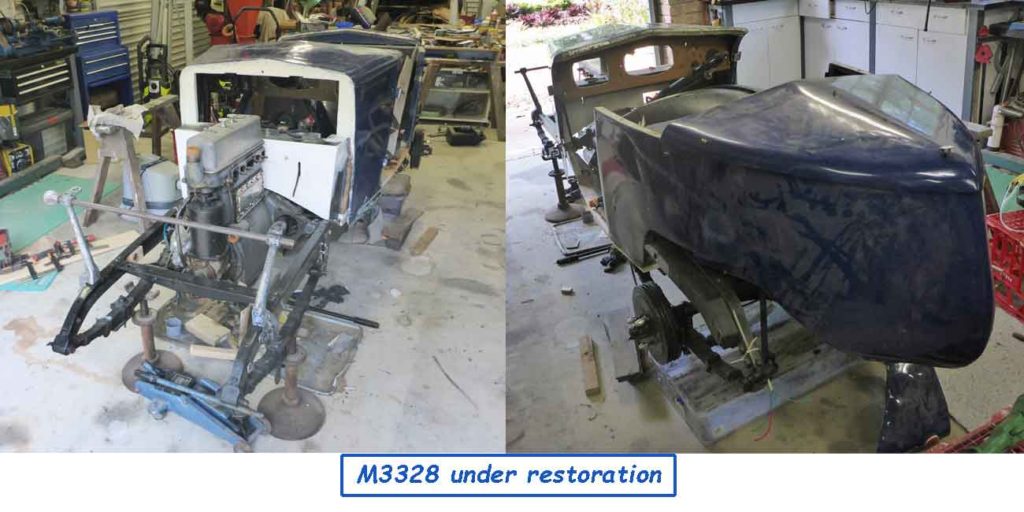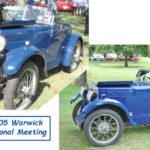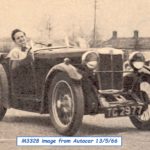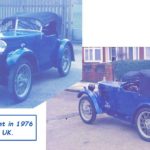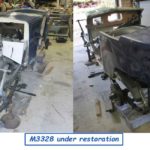 Current owner: Geoff Wigg, Queensland
MMM No: 2394
Information:
Built:  8th December 1931
Engine No:-  3084 (still fitted to car)
Body:-  Metal Clad Sports
Original Colour:-   Black, now dark blue.
(all from original M.G. Car Company records held by the Triple M Register)
Original UK Registration No:-  TG 2977  (note TG suffix indicates car 1st registered in Glamorgan county, Wales)
1st Registered:-  11th March 1932
Nothing further known about car until July 1950 as original log book lost.
July 1950:- Registration transferred to Henry Nelson, Bournemouth, UK
?         :- Registration transferred to Reginald Cuff, Southampton, UK
?         :- Registration transferred to Raymond English, Southampton, UK
May 1961:- Registration transferred to Keith Hicks, Southampton, UK
May 1962:- Keith Hicks address changed to Taunton, UK
?        :- Car sold to Elizabeth Shute, Wellington, UK (near Taunton) Registration not transferred at this time.
(all from No.2 Continuation Log Book, 2nd & 3rd dates not readable.  Triple M Register has a photo in their archives from 13th May 1966 Autocar magazine of car competing in a motorcross in the early 1960s, probably during Keith Hicks ownership.)
?        :- Car acquired by David Shute, Wellington, UK.
Car was restored while in the Shute's ownership & believed registered for a period during 1974 – 75.
December 1976:- Car purchased from David Shute through Thornfalcon Garage, Taunton by present owner, Geoff Wigg.
February 1977:- Car shipped to Tasmania.
April 1977:- Registered in Tasmania to Geoff Wigg, personalised plates MG 1931.
Used until mid 1984 attending numerous M.G. Car Club Tasmania & Vintage Car Club Tasmania events and M.G. National Meetings in Geelong, Ballarat & Adelaide.
1984 Due to transfer to Darwin car placed in the National Car Museum, Launceston were it remained until April 2002.
April 2002:- Car shipped to Queensland.
September 2002:- car registered in Queensland, Historic Registration HS 4855
Since being registered in Queensland car has been used sparingly, mainly attending car shows including RACQ Motorfest, All British Day, MGCCQ Concourse, Macleans Bridge etc.  Has also been to M.G. National Meetings at Warwick & Hunter Valley & to Australian Pre-war M.G. Register events at Beechworth, Vic., & Yamba, NSW.
December 2016 :- Restoration commenced.
Note:- this car has previously been recorded as M2824; the mix-up in chassis numbers was from the Triple M Register records, David Shute owned part of 2M 2824 as well as 2M 3328 & the Triple M registered both cars under 2M 2824.  The situation is not helped by the fact that the actual chassis has no number stamped on the dumb iron (G.W. had a police forensic officer try but he found nothing).  It appears that this part of the chassis was damaged (there is some evidence of straightening and the rivets on the cross member have been replaced by bolts on that side) & the dumb iron replaced.
The present M Registrar for the Triple M Register had G.W. check a number of things on the car & came to the conclusion that the majority of the chassis was 2M 3328 & recorded this on their records.  The engine number 3084 is the original for 2M 3328.
Listing ID

:

4800

Midget

:

M Type

Chassis Number

:

3328

Year of Production

:

1931

Previous Owners

: Records pre-1950 lost.
7/50 Henry Nelson Bournemouth.
? Reginald Cuff Southampton. ? Keith Hick Southampton. ? Elizabeth Shute Wellington. ? David Shute Wellington. 1976 Geoff Wigg.

Current Owner

:

Geoff Wigg

Original Engine Number

:

3084

Current Engine Number

:

3084

Date Acquired

:

1976

Current Reg

:

HS 4855 Qld Historic