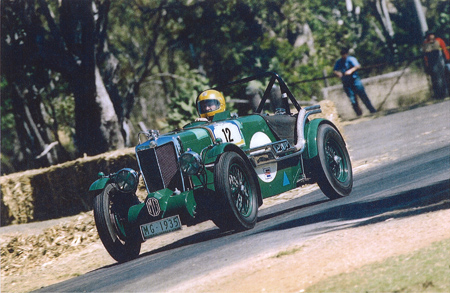 History:
The MG was only used sparingly by the previous owner.  Peter Kerr fully sorted the Magnette, and has had a long and successful racing career with it.
Lloyd Hagaman maintained the MG, and Bruce Blakeley and his boys acted as pit crew mechanics at events.  The NA is reliable and has never faulted, or been bent.  The M.G. competes in racing, hillclimbs, motorkhana's, and rallies in Australia and overseas.
Awards include:  Class wins in Australian open hill climb and Queensland hill championship; Lakeside International Raceway trophy class awards; winner John Thornley Cup and Kimber award; Pre-war plate winner; M.G. Nationals include best pre war performance; second to   Ex-Whitney straight K3 in the U.K. C.O.T.Y. competition; plus countless auto test and concourse awards.
Modifications / Restoration
NA550 was fully restored for the only son of Les Jennings in the 1960's. Les was the first ever to run M.G's in AGP's at Phillip Island in the 1930's. The Magnette had a chassis transplant at this time. The broken chassis and cracked crankshaft went to another NA.
After completion of restoration, the Magnette won the MGCCV concours at its first outing. No expense was spared with the restoration. Gordon Allen cut a new crankshaft from a nitraloy billet, in the U.K. The crank was fully counter balanced with 9 counter balance webs.
Harry Firth had earlier built up the engine as an exercise, his first after he left A.F. Hollins.  Brian Florrimell worked through all the engine rebuild. Valve timing was set as per the NE Spec with  inlet opening 25 deg B.T.D.C., and exhaust closing 25 deg A.T.D.C. Triumph Bonneville rods were fitted without modification.
Countless other modifications make this such a sweet, high reving engine. The ENV MG gearbox is mated to a lightweight clutch and flywheel.  All work was of the highest standard.  Gary Grant completed the car to presentation standard.
Further Information:
The 'N' type Magnette was the last of the OHC cross flow engines, the 'N' having a larger capacity than the 'K'. Chassis side members were wider at the back than at the front (previous models had a ladder chassis), and the earlier slab rear end was replaced, so the petrol tank was covered with a neat tail. The 1935 export sales brochure offered a rolling chassis (all running gear, engine, radiator, dash, but minus body), to comply with duty free import requirements to Australia. Aspinal bodies were the preferred fitment in Australia (the sturdy door-less tub withstood the pounding on dirt track race circuits) the 'N' type engine was a highly developed version of the KD unit.
When Lord Nuffield sold M.G. to Morris Motors, Leonard Lord cancelled all MG overhead cam engines when he scrapped the racing and design departments  in 1935.
He transferred M.G. design to Cowley. Push rod engines for S.V.W saloons, and T-type sports were introduced in 1936.
We leave the last word to Phil Hill, former F1 World Champion, he said, "The M.G. Magnette overhead cam cross flow 6 cylinder highly supercharged engine, produced more horsepower per litre than all other engines at that time including Mercedes and Auto Union".
That attracted him to M.G. record breaking in Utah, USA.
Some car, some inspiration.
Listing ID

:

1991

Magnette

:

NA

Chassis Number

:

0550

Year of Production

:

1935

Current Owner

:

Peter Kerr

Original Engine Number

:

AN558

Current Engine Number

:

AN558

Current Reg

:

MG 1935