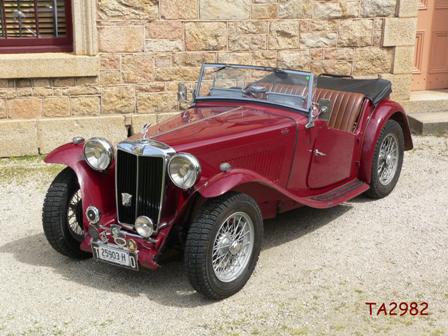 Current Owner: Ross Harris, New South Wales
History: Maroon in colour, this TA left Abingdon in December 1938 and was first registered in the UK in April 1939.
Found as a derelict in 1960 it was rebuilt for everyday use and is still fitted with the standard 1292 cc OHV MPJG engine with a cork in oil bath clutch and part synchromesh gearbox. During its time in the UK it has had some minor successes at Brands Hatch Raceway.
It came to Australia as a private import in 1980 and was purchased by Philip and Moreen about 15 years ago.  Since 1960 there has been only the two owners viz Ron Gammons of the MGCC (UK) and Anne Pridham originally from Melbourne and who purchased the car in the UK and imported it in 1980.  It is a superb driving car that has been driven by its current owner from Sydney to most of the interstate Natmeets including South Australia, Queensland and Victoria as well as covering all of the major provincial centres in NSW. It is also used regularly on the MGCC of Sydney and VSCC club runs.
Listing ID

:

2054

T Type

:

TA

Chassis Number

:

2982

Year of Production

:

1938

Previous Owners

:

Phillip & Moreen Dadd, Ron Gammons, Anne Pridham

Current Owner

:

Ross Harris

Original Engine Number

:

MPJG 3268