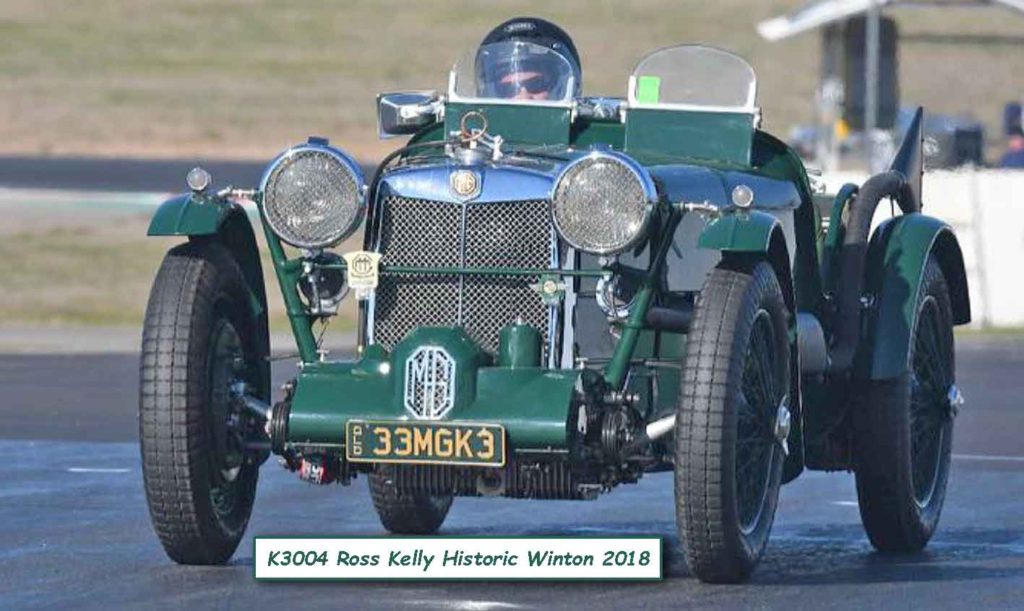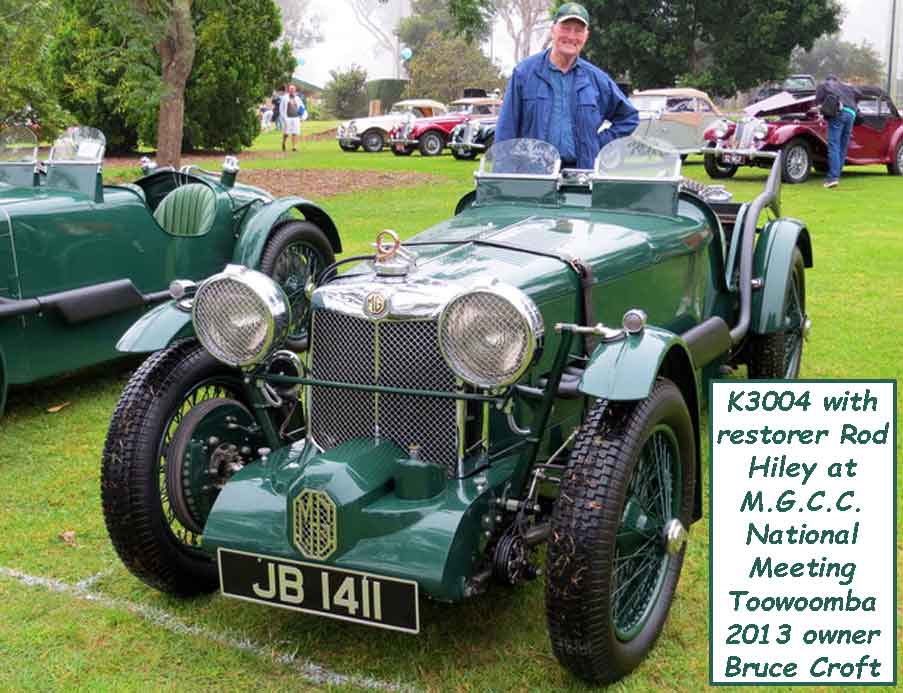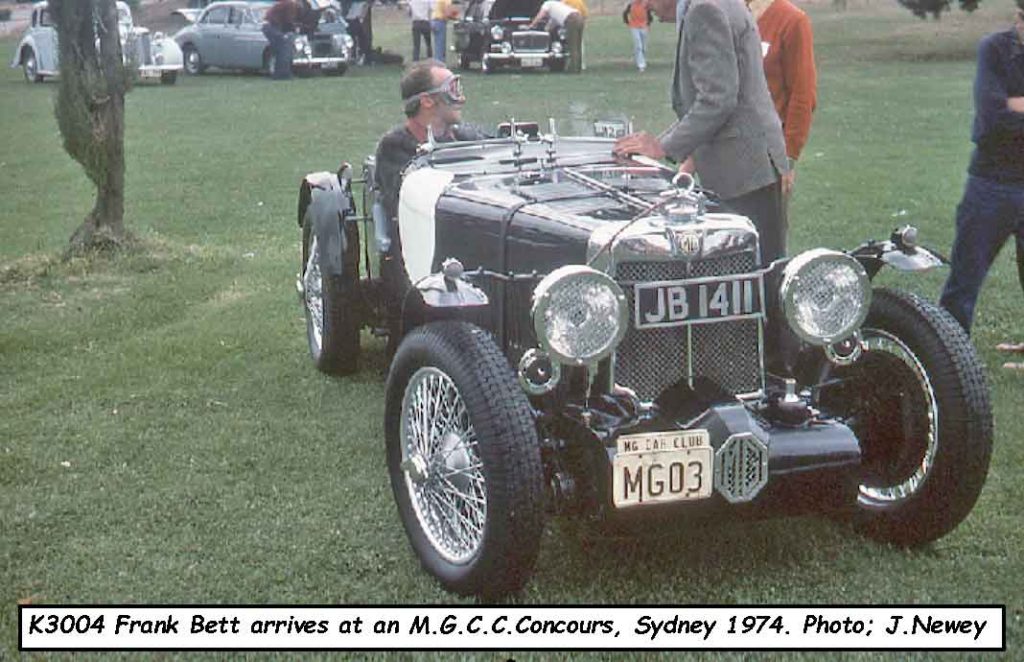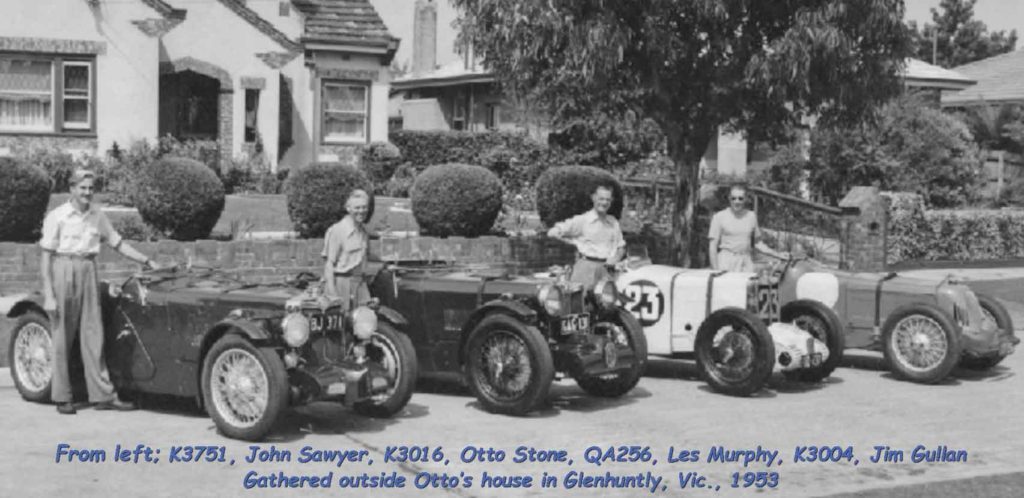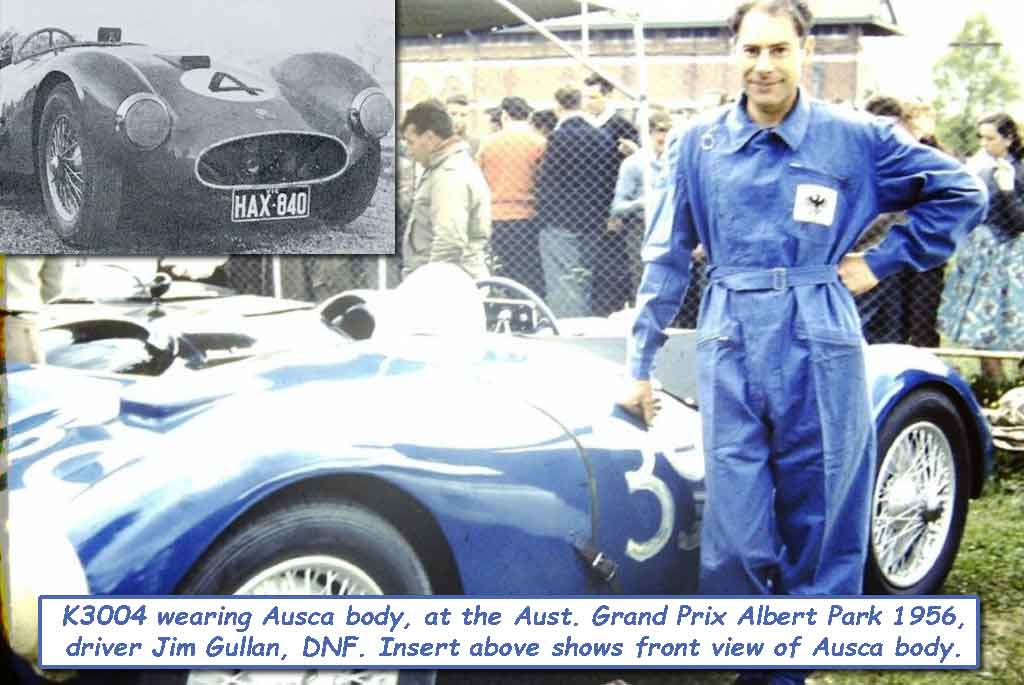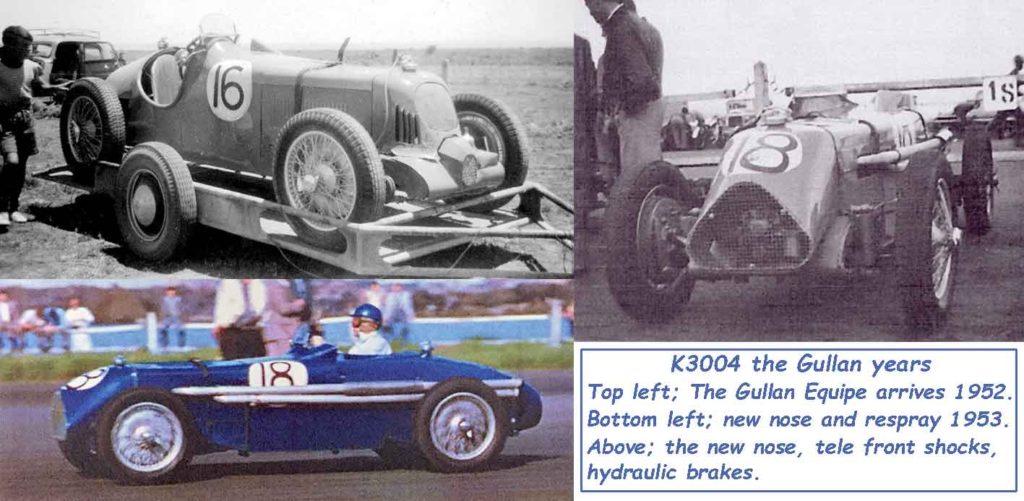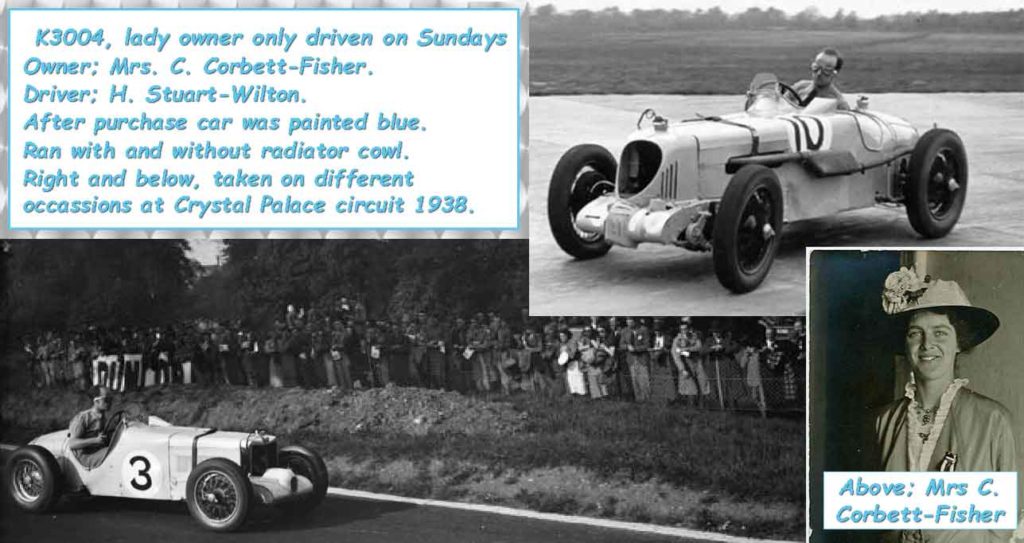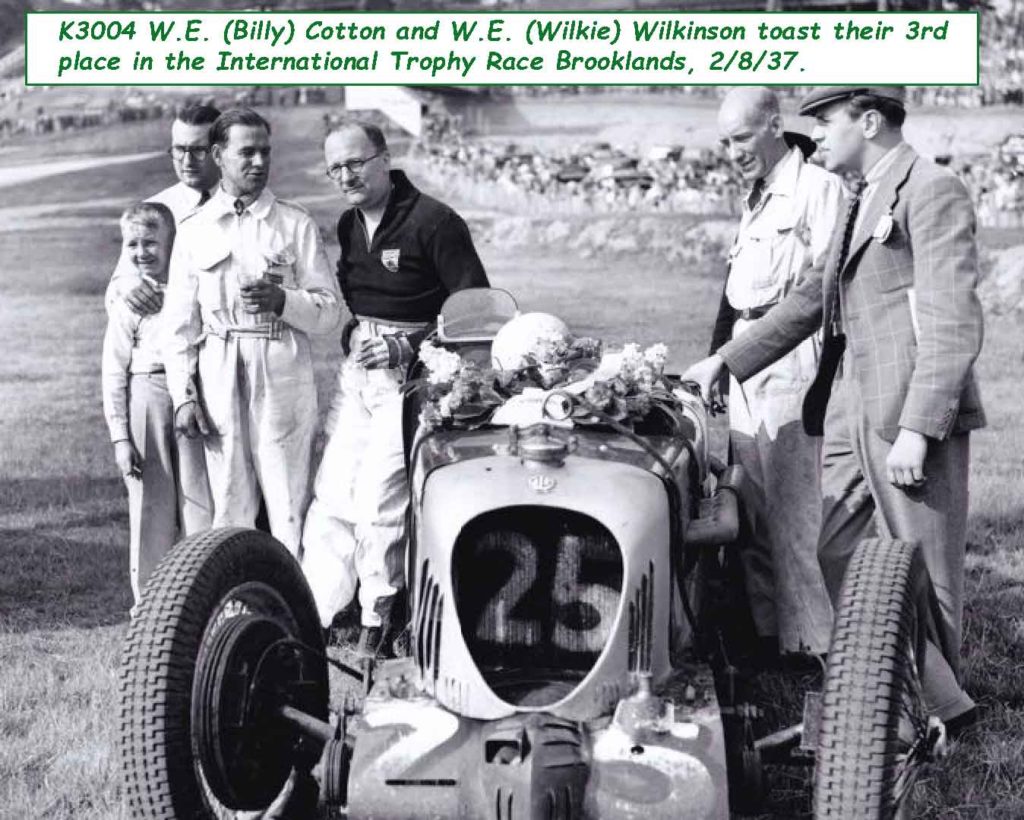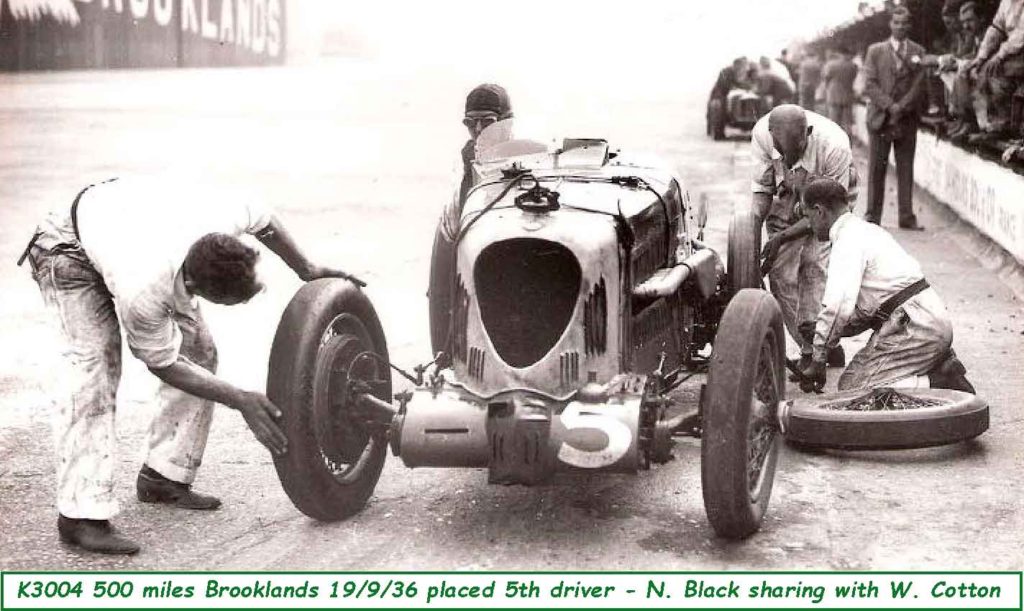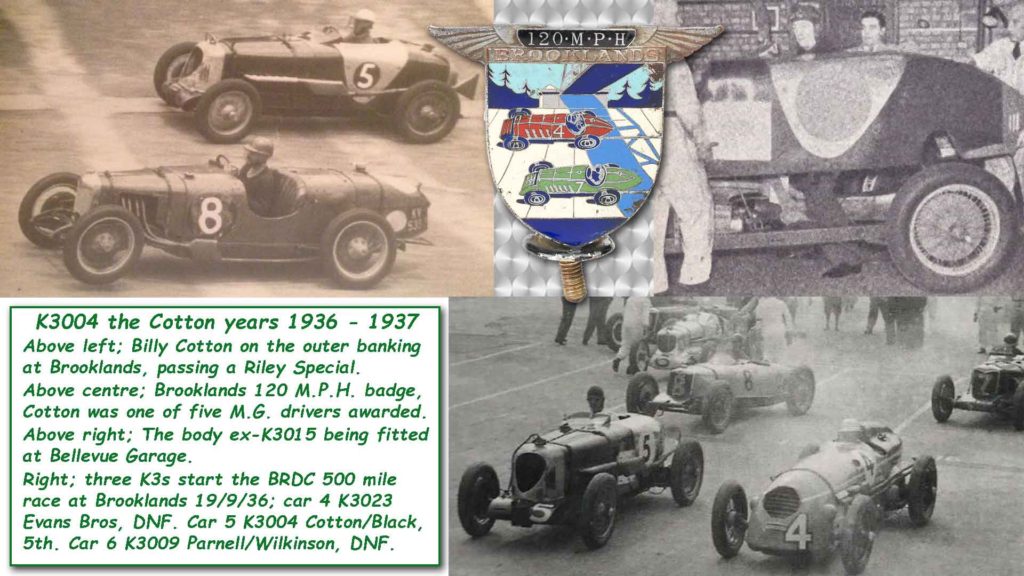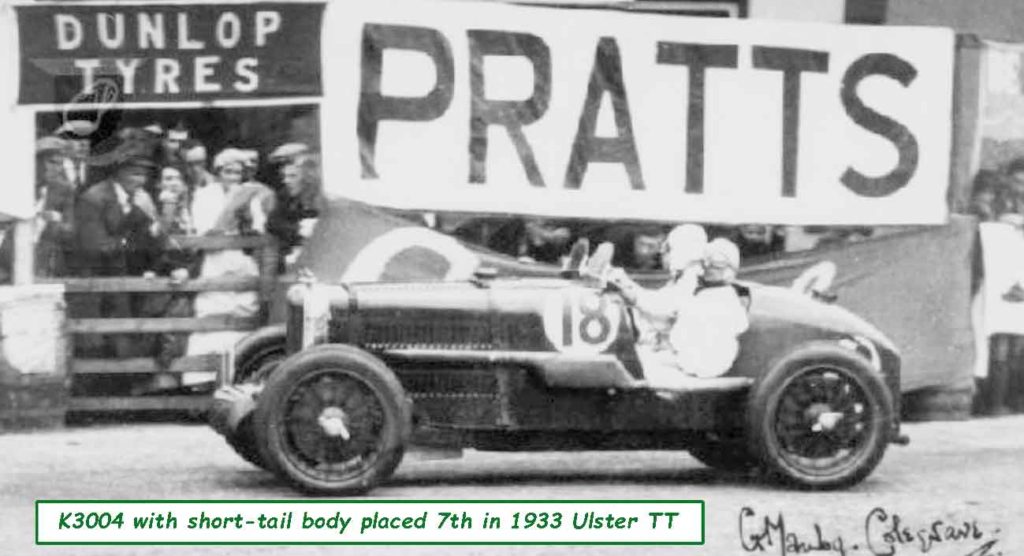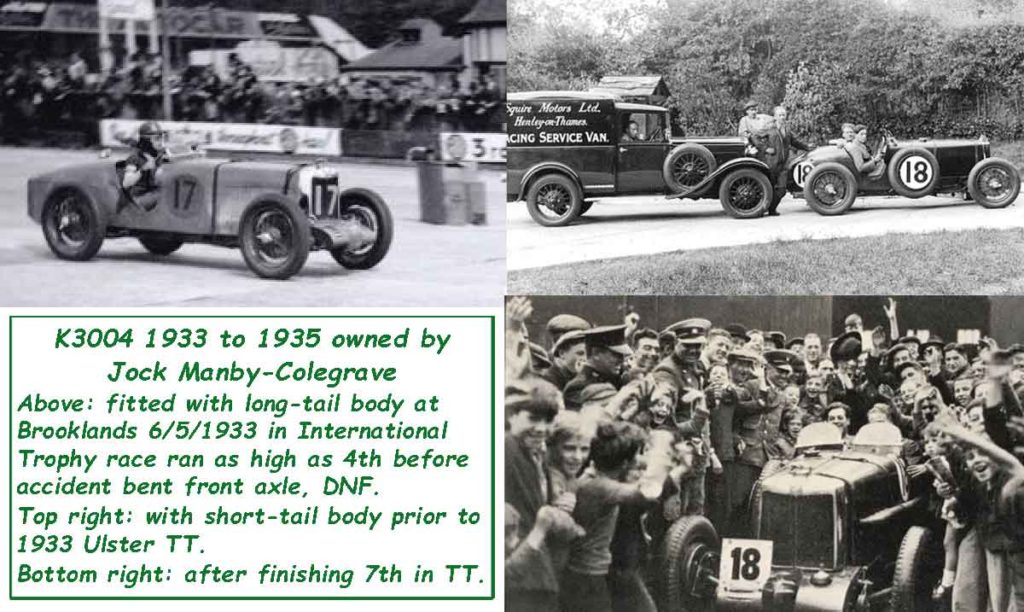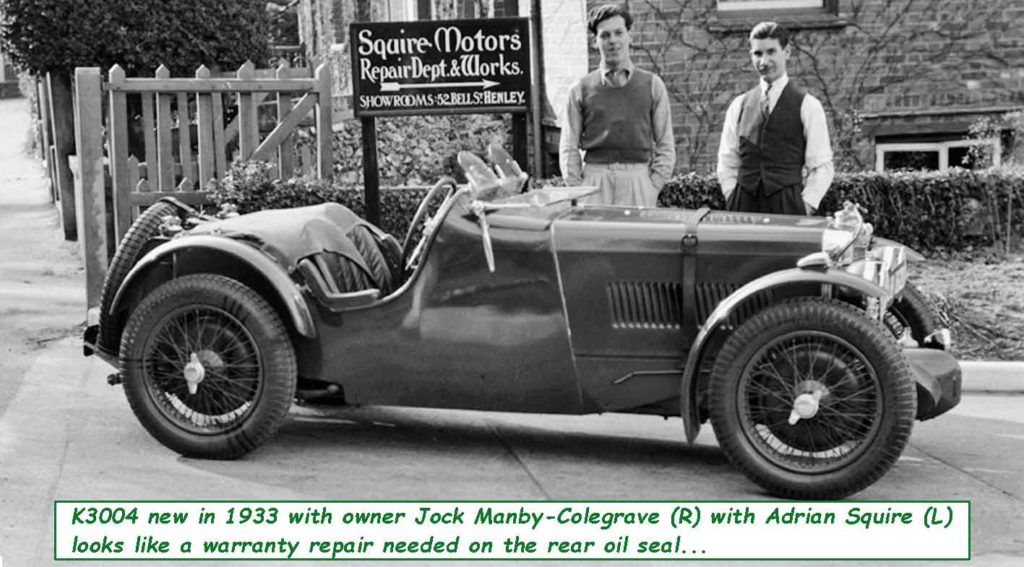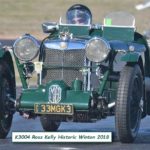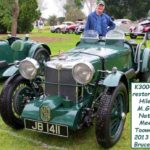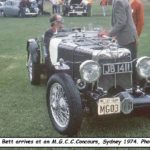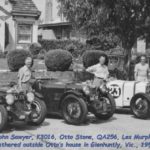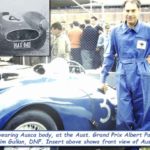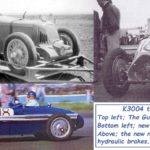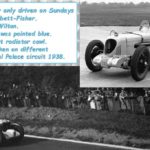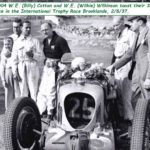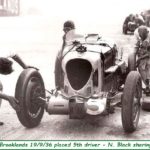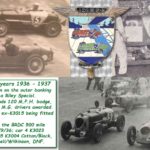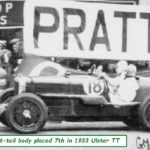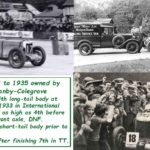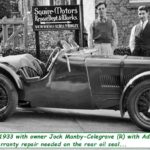 Current owner; Clifford Ross Kelly, Queensland.
History; K3004 is the sixth K3 built; with its guarantee plate being issued 30/3/1933 and delivered to its buyer, G.F.A. (Jock) Manby-Colegrave.  It is believed that the car was registered JB 1411.  Jock was friendly with Adrian Squires who had worked as a draftsman at Abingdon leaving to develop his own 'Squire' sports car at his works at Henley on Thames. Jock was a partner in the business and Squire Motors did all the development and maintenance on his K3.
Having taken delivery in April '33 Jock wasted no time in entering the car in races at Brooklands in April, May and June.  During this time the standard K3 slab-tank body was replaced with a racing long-tail body, one of many body changes this car was to endure in its lifetime.
In July '33 the car ran in the BRDC British Empire Trophy races at Brooklands, this time fitted with a short-tail racing body, finishing 5th in the India Trophy race and 3rd in the British Empire Trophy at 106.88 m.p.h.
The car appears to have remained in this configuration and raced continuously by Manby-Colegrave through to late 1935 when it may have been sold to another regular M.G. racer Dudley Froy although he does not appear to have used it in competition.
In 1936 the car entered its most successful period in the hands of new owner, band-leader, W.E. (Billy) Cotton.  After a couple of mediocre results Cotton took the car to Bellevue Garage to be maintained by their foreman W.E. (Wilkie) Wilkinson and was rewarded with a win in his next race.
In preparation for the 1937 season the car received yet another body change, this being a lower race body with front radiator cowl.  The body had been removed from K3015 owned by J.W.T. Smith who had installed an offset single seat body to attempt speed records.  Bellevue Garage carried out the body change and with their continuing expertise in preparation Cotton enjoyed considerable success through the '37 season, including earning a coveted Brooklands 120 mph badge; one of only five M.G. drivers to receive the award.  The M.G. cars achieving the 120.m.p.h. badge were K3007 with two different drivers, K3009, K3004 & QA0256.
In 1938, in the search for higher performance, Cotton sold the K3 and bought an ERA.
The new owner was Mrs Cicely Corbett-Fisher and the car was actively campaigned in more than 20 events until the declaration of war ended motorsport in September '39.  In all those events the driver is recorded as H. (Herbert) Stuart-Wilton and the entrant Mrs C. Corbett-Fisher, there is no record of the connection between owner and driver.  Previously Corbett-Fisher and Stuart-Wilton had campaigned M.G. QA0254.
During this period the car's colour changed from Cotton's green and silver to a pale blue, on occasion the cowl was removed, and a chromed grille shell featured.
Ownership between 1939 and 1943 is not recorded however the car was advertised for sale in 'The Autocar' in May '43 by Rowland Motors of Byfleet and would appear to have been bought by a Mr. May of Weybridge.
In December 1950 Jim Gullan was working in the UK and posted a wanted ad for a K3 which resulted in his purchase of K3004 and subsequently he shipped it home to Melbourne, Australia in 1952.  The car was stripped and repainted in a bright blue and pressed into active competition.  The car appeared in a variety of events over the next few years until mid-1955 when it was advertised for sale.  With the car unsold Gullan began the 1956 season with the car fitted with hydraulic brakes and a new, streamlined fibreglass Ausca body; one of 15 made by Paul England.  The old body, originally removed from K3015 was subsequently fitted to a PA Special by Jim McDonald in 1976 and later still it was transferred to KN0436 by Ivan Glasby.
While still in regular competition the car was again advertised for sale in Sept. '57 AMS and then again in Sept. '58, this time selling to Max Robertson.
Robertson is recorded as competing in a race meeting at Albert Park in November '58 and then he advertised car in AMS in Jan. 1960 which resulted in it being repurchased by Gullan.  The car was entered in the Geelong Sprints in Aug. '60 and reappeared at the same event the following year.
Although advertised for sale again in 1962 Gullen entered for the first race meeting to be held at Sandown.  After practice on Saturday Jim received a phone call from Nuclear Physicist Frank Bett, offering to buy the car.  Jim agreed but still ran in the race the next day finishing with a class win which was a fitting end to an illustrious career for the car.
Bett arrived the following week with the bold plan to drive the car back to his home in Sydney; in a letter to Gullen after the trip, Bett stated that it went without incident and in a time unachievable (legally) today.  After a couple of years of everyday use and more years of storage while working in the USA, Frank sent the car to South Australia in 1967 where ex-Pininfarina coachbuilder, Johnny Pagnussat, built a replica of a 1933 slab-tank K3 body and grille shell in steel, using drawings and tracings from original cars collected by Bett.  The finished car was painted black.
By 1970 the restoration was practically finished and returned to Sydney where Frank was, for a while, secretary to the M.G.C.C., so the car appeared at many M.G. and other club events.
In 1978 Bett returned the car to Victoria to participate in the 50th anniversary of the first Australian Grand Prix at Phillip Island road circuit, he shared his demonstration laps with Jim Gullan.  In 1980 the car was extensively overhauled in preparation for that year's M.G.C.C. National Meeting on the Gold Coast.
In 1987 Max Henderson became the new owner; an Aussie based in Papua New Guinea, the car was placed in the care of Rod Hiley, owner of K3016 and proprietor of Abingdon Motors in Brisbane, Queensland.
1997 saw another change of ownership, Bruce Croft from Sydney, in 2003 Abingdon Motors undertook another rebuild of the car replacing the all steel replica body with a more correct timber framed body with aluminium skin.  The new body was painted British Racing Green.
In 2017 a new owner emerged, Clifford Ross Kelly in Queensland.  Ross. with some help, has undertaken a thorough recommissioning of the car and is now enjoying driving a unique piece of automotive history.
Initially the work on K3004 has been to refurbish the car back to the factory specifications when sold to Manby-Colegrave.   Photos of the car outside Squire Motors have provided a valuable source of information on how the car looked prior to the race preparation by Squire Motors.
The work entailed; new windscreen, wing stays, headlights and foglight, additional shock absorbers to rear suspension, new tonneau including correct fastening details, as well as rewiring and new copper pipework.  Engine is yet to be stripped and checked.
M.G. K3 Chassis no. – K3004, Engine no. – 16AK, Colour – green.
30/3/33; guarantee plate issued, and car delivered to George F.A. Manby-Colegrave at Squire Motors.  Registered JB 1411.
17/4/33; first event – BARC races, Mountain Circuit, Brooklands.
Fitted long-tail body.
6/5/33; JCC International Trophy race, Brooklands.
1933; started in ten races at Brooklands and the Ulster TT.
1934; started in eight races at Brooklands, Isle of Man and Dublin.
1935; started in six races at Brooklands, Isle of Man, Bagnor and Dublin.
Late '35; may have been sold to Dudley Froy.
Early '36; sold to W.E. (Billy) Cotton.
1936; started in seven races including Donington, Brooklands and Southport sand races.
Early '37; lightweight body ex-K3015 fitted by Bellevue Garage.
1937; started in seven races at Donington, Brooklands and Southport.
5/37; 120m.p.h. badge awarded at Brooklands.
10/37; Fastest lap of 123.89 m.p.h.  First October Short Handicap, Brooklands.
9/37; sold by Bellevue to Mrs. C. Corbett-Fisher; the car was to be driven by Herbert Stuart-Wilton.
Late '37 entered in two more events, Brighton Speed Trials and races at Brooklands.
1938; started in 14 events at Brooklands, Crystal Palace and Lewes Speed Trials.
1939; started in 12 events at Brooklands, Crystal Palace and Lewes Speed Trials.  3rd place in RCC Imperial Trophy, Crystal Palace to finish its UK racing history.
1943; sold by Rowland Motors to a Mr. May, Weybridge.
1950; sold to Jim Gullan.
1952; shipped to Melbourne, Australia, registered YT 256 painted bright blue.
9/6/52; first event in Oz., Templestowe Hillclimb.
1952; started in three events, all at Templestowe Hillclimb.
1953; new front cowl, started in four events including A.G.P. at Albert Park (dnf), Port Wakefield, S.A., Fishermans Bend and Templestowe.
1954; started in five events, Altona, Templestowe and Fishermans Bend.
1955; started in six events, Fishermans Bend, Albert Park T.T., Templestowe.
8/55; advertised for sale in AMS.
1956; fibreglass Ausca body fitted, reregistered HAX 840, painted same bright blue.
1956; started in four events including Hepburn Springs, Templestowe and A.G.P. at Albert Park.
1957; started in seven events, Templestowe, Albert Park, Hepburn Springs and Fishermans Bend.
1958; started in three events, Fishermans Bend and Templestowe Hillclimb then offered for sale.
8/58; advertised for sale by Gullan in AMS, bought by Max Robertson.
11/58; entered races at Albert Park by Max Robertson.
1/60; advertised for sale by Robertson in AMS only to be repurchased by Gullan.
8/61; Geelong Speed Trials.
2/62; advertised for sale by Gullan in AMS.
12/3/62; practice for first car race meeting at Sandown, later received phone call and agreed to sell.
13/3/62; won its class.
3/62; sold to Frank Bett, driven from Melbourne to Sydney (quickly).
Mid '60s; taken to South Australia maintained by Tony Ohlmeyer.  Registered RCD 654 (SA).
1967; new replica slab-tank body and grille in steel by ex-Pininfarina coachbuilder, Johnny Pagnussat.
1970; restoration almost complete, car registered MG03 (NSW).
1978; 50th anniversary of Australian Grand Prix at Phillip Island (road circuit) Frank Bett/Jim Gullan.
1987; sold to Max Henderson, taken to Queensland to be maintained by Rod Hiley, registered 33MGK3 (Qld.)
1997; sold to Bruce Croft (NSW) car remained with Hiley.
2003; Croft contracts Hiley to restore car building new body of correct timber and alloy construction.
2017; sold to Clifford Ross Kelly, Qld., detail improvements.
2018; Winton Historic Races
2019: Leyburn Sprints, Pre-war M.G. Rallye, Yamba.
Listing ID

:

1956

Magnette

:

K3

Chassis Number

:

3004

Year of Production

:

1933

Previous Owners

:

B. Croft, 97-17. M. Henderson, 87-97, F. Bett, 62-87, J. Gullan, 60-62. M. Robertson, 58-60. J. Gullan, 50-58. Mr May 43-50. Unk. 39-43. Mrs Corbett-Fisher 37-39. W. Cotton, 36-37. D. Froy? 35. G. Manby-Colegrave 33-35.

Current Owner

:

Clifford Ross Kelly

Original Engine Number

:

16AK

Current Engine Number

:

16AK

Date Acquired

:

2017

Current Reg

:

Qld., 33MGK3