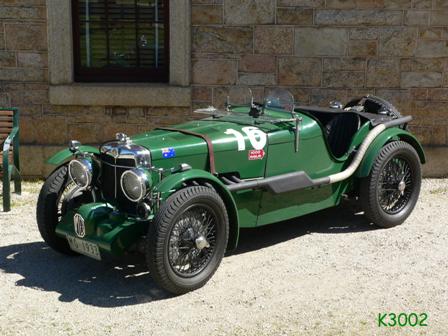 History:
K3002 was prepared for the 1933 Mille Miglia being driven by Henry Birkin and Bernard Rubin. It was the pacesetter for the MG team and retired at Sienna after setting a new class record for the distance travelled. The car was retained by the factory and raced in the Mannin Beg and the Shelsley Walsh Hillclimb.
Lanes Motors bought K3002 and it arrived in Melbourne in 1934. Despite having only just landed it finished second in the 1934 AGP driven by Bill Thompson.It was driven with some success in Australia until taken to New Zealand in 1951 where it was badly damaged in a racing accident. It was returned to Australia where it was rebuilt by Pip Bucknell and it ran again in 1962.
Lanes Motors repurchased the car in the early 1970's and it was purchased by Richard Berryman in the late 1970s. Richard used the car regularly and on his death it passed to his son Adam who campaigns the car with much enthusiasm including taking it to Europe for the Mille Miglia Classic in 1994. He has competed at Phillip Island, Winton and Sandown. The car is kept fully road registered and is driven to events. As Adam says, "a great way to go racing".
Listing ID

:

1948

Magnette

:

K3

Chassis Number

:

K 3002

Current Owner

:

Adam Berryman

Current Reg

:

MG1933