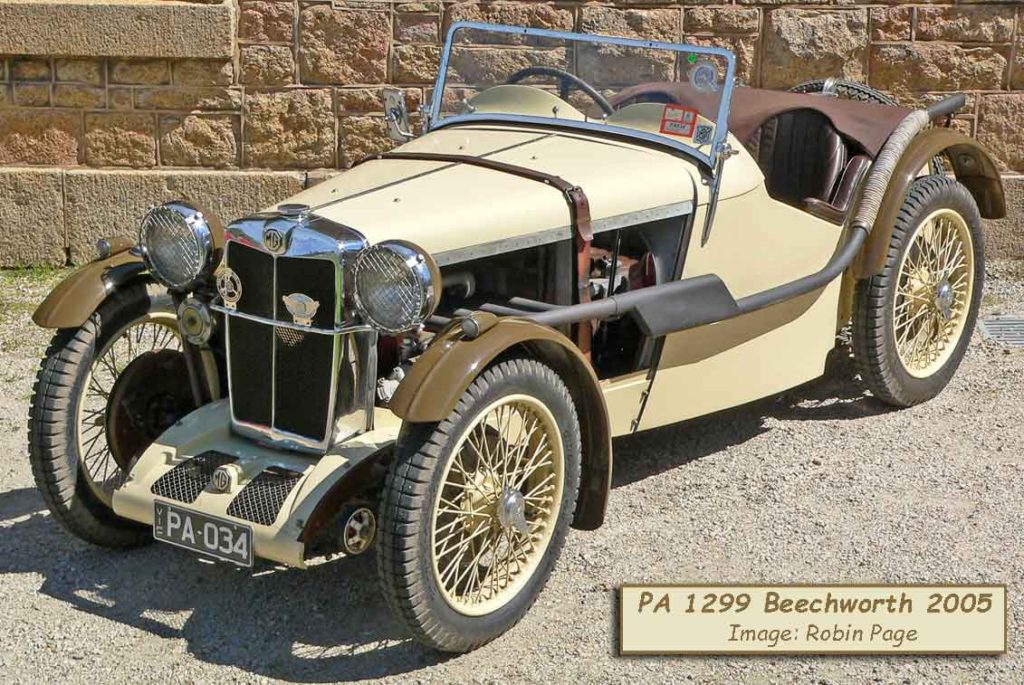 Current Owner: Alan Briggs, Tasmania
MMM No: 2433
History:  Researched by Tony Sloan.
PA1299 left the factory for Australia in chassis form in August 1934.
It was shipped to Lanes Motors in Victoria who had it bodied as a 4-seater and then delivered, in October 1934, to Miss Nell Marrie, a prominent competitive golfer.
At some time PA1299 moved to South Australia and was owned by John Connors of Clare in the Barossa.  In 1952 it was purchased by Peter Spencer of Whyalla and between 1952 and 1960 was restored as a 2-seater. A photo taken during this restoration shows the fitting of 8 inch hydraulic brakes.
PA1299's next move was via a car dealer named John Kiss to an unknown Victorian and then to Les Craft of Gosford in NSW.  Les Craft sold the car to Geoff Ringrose of Sydney who in turn sold it to Wes Southgate of Trafalgar in Victoria in 1970.
In 1971 Wes had a serious accident in PA1299 which left the car as a write off (fortunately not entirely the case).  Soon after being released from hospital and whilst still recuperating Wes saw an advertisement in The Age for PA0989 (click on link) fitted with a Morris Minor motor then owned by John Trapp. He purchased it and began to prepare an amalgamation of the two cars.  PA0989 retained its chassis, axles, brakes (correct 12 inch) and some body parts and gained engine and gearbox from PA1299 plus a rebuilt body.
The remains of PA1299 languished until 1977 when they were purchased by a desperate Tony Sloan.  After a massive effort getting the chassis straight again and repairing the axles; chassis and running gear for PA1299 were again usable.  A set of 12 inch brakes were located and the steering box from PA0989 was used.  Various mechanical dregs were resurrected to provide an original P-Type engine and gearbox.
A new timber framed and aluminium paneled 2-seater doorless body was made using J3 panels as templates giving a fairly accurate J4 profile. This was completed in 1982.
Tony used PA1299 extensively apart from an extended period of mechanical rebuilding (after the dregs died).
Listing ID

:

2335

Midget

:

PA

Chassis Number

:

1299

Year of Production

:

1934

Previous Owners

:

Tony Sloan, Vic. Wes Southgate, Vic. Geoff Ringrose, Sydney. Les Craft, Gosford, NSW. John Kiss, Peter Spencer, Whyalla, SA. John Conners, Clare, SA. Miss N. Marrie, Vic.

Current Owner

:

Alan Briggs

Original Engine Number

:

1539AP

Current Engine Number

:

839AP

Date Acquired

:

2019

Current Reg

:

VC2487 TAS.