SA 0945
SVW / / 411 views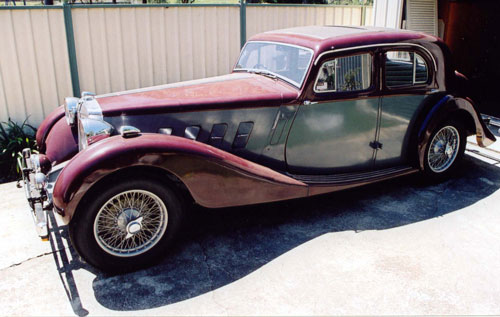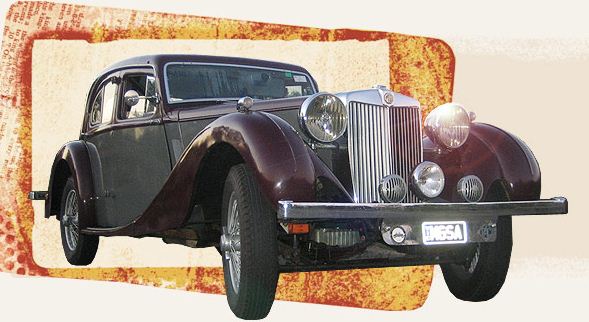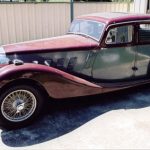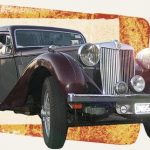 Information / History:
SA 0945 This is no ordinary MG Saloon
Underneath the mild mannered coachwork lies a highly modified pre War MG.  It started off life as an early model (694th produced on the line 1936) SA Saloon, and on the outside not much difference, except the hint of extra 30mm of ground clearance.  In order to tackle the gruelling endurance rally event, especially the 10 days crossing the Gobi Desert, we have relied on the notes supplied by the Endurance Rally Association, as well as expert advice from Plus Four and other specialists listed in the thank you page.
Modifications to  SA0945 include:
A new engine, almost every moving part replaced, however modified to run on petrol as low as 70 RON (octane rating, normal unleaded fuel is 91 RON) as compression is approx 7:1

Hand forged custom con rods and new pistons, rings, slipper bearings

Riley 2.5 gearbox from same family of engines (bolt on addition)

New diff, bearings, half shafts (race hardened), diff breather for river crossings

Long range fuel tank (85 litres discretely mounted in the boot space over the rear axle) to complement the 45 litre existing tank (10 imp gallons) – the rally organisers advise a fuel range of 600 kilometres – based on 17 litres per 100k, this gives us a range of  764 kilometres.

New suspension – all new suspension, springs, shocks, soft nylothane bushes, and some – car lifted 30mm for additional ground clearance, loads of spares…. thid is serious investment – all cars in the 2007 rally had suspension problems, and a 2 tonne saloon like ours is no different.   The second spring acts as a wrap leaf to get over a broken main, but… we expect to break something, as we would rather work the suspension, and have the weakest link fail, than have the pounding the car will take transmit through to the whole body and break something bigger.

Roll cage – so it is not a race, however we don't want to take any unnecessary chances, and the roll cage allows the rally harness to be secured properly

Independent Fuel Systems – dual separate fuel lines, independent fuel pumps, separate glass fuel filters, aviation quality stainless steel braided hoses to counter stone damage

New Loom – a new loom was installed to cope with the extra electric gadgets (Sat nav, sat phone, rally computer) and to reduce the risk of faulty electrics due to 74 year old wiring… but after all it is an English car, and the Prince of Darkness is omnipresent

Dual battery system – batteries moved from the under rear seat mount which wont like deep rivers, to high mounted on the firewall, with independent critical systems on separate batteries to avoid flat batteries

Halogen lights – so the period headlights lights look period, but ass halogen bulbs, and they light up the horizon

New seat cushions – the old Morris seat frames which had ended up along the way in the SA (non original) had collapsed and were due for an overall….. new springs, cushions, and re-trim, and they are the most comfortable MG seats i have (and i have a few).

Radiator re core, which trials have proved it will survive 45 degree days (thats 113 degrees in the old scale)

New engine & gearbox mounts

Up-rated tail shaft & unis

New valves – ground and hardened for unleaded fuel

New camshaft – original profile (no hot cam here)

Wet clutch modified to dry clutch of the later MG SA style

Brake vacuum booster added after the first drive with the new engine, and for a change the car accelerated faster than it stopped, complemented by stainless steel braided brake hoses.  New brake cylinders, shoes, machined drums.

New mechanical distributor, leads, coil – no problems with spark

Race Head gasket – notorious for head gasket problems as the original 2.0 litre engine was brought out to 2.3 litres when launched by MG in 1936, and hence very little meat left between pistons…. a new composite head gasket was hand crafted to be exact.  6 re-iterations of the pattern to get it perfect

Goldspark starter motor, hi torque cranking on those cold days

Leather trimmed steering wheel for a touch of style and comfort

Laminated Glass Front windscreen

Front Axle – I beam – machined and bearings capped to reduce the interference of dust and water

Modern cartridge type oil filter

Extended tyre holder – converted to carry 2 spare wheels

…. and more to come
In the end – what do we have – we have an engine that chugs along very sweetly.  It is a long stroke motor, and as a consequence, it is low revving and very very torquey.  Whilst it is not a diesel engine, it sure feels that way… and the car will start in 4th gear if required.
In the testing phase – the Riley gearbox caused a problem with the MG dipstick interfering with the gear selector… so we drove around for a month without second gear.  I feel confident that we could drive across the Gobi without second, as the engine is happy working at 2,000 to 2,500 revs which is about 60 kph to 75 kph per hour.
Top Speed – who knows ?  SA 0945  is due to go on the racetrack at the Australian Easter National Meeting in Adelaide, so watch the updates for this.  I can state that at just 0ver 3,ooo rpm the cars sits nicely on 110 kph… but speed is not essential.
Bottom Line – this is not a fast car, this is an engine which will start every day, and a suspension, cooling, electrical and mechanical system that will keep the car going – and it is up to the driver to make sure it is not human interference (ie brain fade) to cause the car to stop.
To the women folk who have read this far… don't you just feel the love ?

Navigator / Mechanic: John Hastie
Listing ID

:

1666

SVW

:

SA

Chassis Number

:

0945

Year of Production

:

1936

Previous Owners

:

Bruce Mc Donald

Current Owner

:

Maurice Timms