SA 2337
SVW / / 314 views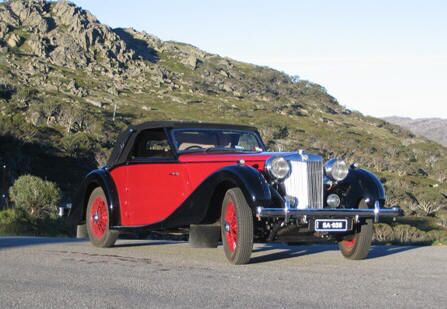 History:  SA 2337 and the Peking to Paris Rally
Built from the ground up from the remains of a burnt-out saloon (SA2337) bought from Morris Pavlinovich in Western Australia, and some more panels and other bits and pieces from another chassis (SA 1885 ex-Ed Ison from Sydney) that Harry had owned for several years.
The Peking to Paris M.G. is mechanically standard although tough­ened up for the rally. More significantly, it carries elegant two-door drop-head coupe coachwork in the style of Reinbolt and Christe of Basel in Switzerland who built the bodies for the handful of these M.G.s imported there before WWII by the M.G. Agent, Sportcar AG in Zurich,
Work on the rally car only started in earnest early in 2006. The mechanicals car had to be completely overhauled and restored by Rob Rowe in Sydney, while the Keller-inspiredcoachwork had been hand-built in steel by Dave and Ian Robinson at Geary's Gap, just outside Canberra. Steve's Up­holstery has been responsible for the elegant cabriolet hood and interior fit-out, using hood bows and framework provided by SVW Spares in the UK. The car is painted in one of the traditional Pre-War M.G. colour schemes of Saratoga Red over black with a rich red leather trim.
To comply with the rally regula­tions, the SA had to be as standard as possible, with some latitude allowed for modifications to cope with the rigors of the route. The 2.3 litre, 18 hp, six cylinder SA engine (type QPHG), is pretty much standard, as is most of the ancillaryequipment such as the starter, the generator and the two SU fuel pumps. However, the SAhas tougher springs, two 12 volt batteries with individual cut-outs, and a pair of purpose-designed fuel tanks each capable of holding 50 litres of the best Mongolian fuel. Fuel can he taken from either or both tanks at the flick of a switch. The rally M.G. also sports a pair of spare wheels firmly bolted on its gracefully sweeping tail, Halda distance measuring equipment (mechanical of course), full-harness seatbelts and a roll bar. An expansion tank for the radiator, to avoid loss of precious water, has also been fitted, while dual action telescopic shock-absorbers, proper air filtering and a hardened alloy sump guard complete the rally specifications.
Malcolm Robinson
Listing ID

:

1649

SVW

:

SA

Chassis Number

:

2337

Year of Production

:

1938

Current Owner

:

Harry Hickling