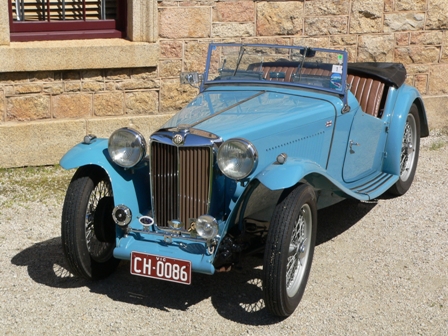 Current Owner: Graeme & Jennie Jackson, Victoria

History: The TB arrived in South Australia on 8 January 1940 aboard the "Imperial Star" and was sold by Motors Ltd. registered SA752.  It soon came to Victoria, registered NA603.
Graeme Jackson heard about the car in 1971 but could not afford to buy it  and recommended purchase to a mate who bought it in complete but worn out condition. Graeme had to wait for the mate's divorce to buy the car in 1977.
The full restoration was completed by 1986, it won the MGCC Concourse outright in 1987, and since then has been used extensively in competition and on the road.  The TB is an utterly reliable and delightful MG.
Listing ID

:

2167

T Type

:

TB

Chassis Number

:

0508

Current Owner

:

Graeme & Jennie Jackson

Original Engine Number

:

XPAG 757

Date Acquired

:

1977