VA 0838
SVW / / 412 views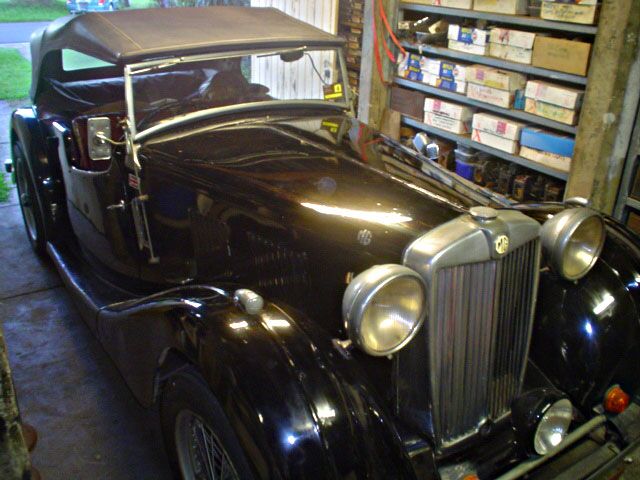 Information / History:
The car left Abingdon on the 27th September 1937
Barry Harvey purchased this car from Chip Hedges on 16th April 1977, just after Chip drove the car to Katoomba for the MG National Meeting, where he was trying to sell it for $3,000.  It ran a bearing on the way home (the car was left in Warwick), and Barry bought it as a non-runner, trailering it home from Warwick..
Chip had only bought the car in 1976 for $3,000, from a "Michael" from Fig Tree Pocket in Brisbane.  I have found a current phone number for a "Chip Hedges", and hope to ring him sometime and see if he can shed any light on the surname of the previous owner and any other owners prior to 1976.
The car has flat MG badges in the middle of each door and also raised MG letters on the front of each bonnet side which I believe are unique to this car.  Perhaps this unusual feature may ring a bell with someone.  There is evidence under one of the rear guards that the car may have been a Burgundy or Red colour in the past.
Barry re-built the engine in time to compete in the 1980 National Meeting on the Gold Coast, but since then it appears it was only registered for the road in April 1997 to April 1998.  Included in the paperwork with the car are full copies of the results of the 1977 & 1980 MG National Meetings.  I will be handing copies of these results to the MG Car Club of Qld Library.
Listing ID

:

1348

SVW

:

VA

Chassis Number

:

0838

Previous Owners

: Barry Harvey, Chip Hedges, Michael Bayer,
Dr. Rodney Lumer, Peter Baker, ???, ??? still looking for more.

Current Owner

:

Tony & Debbie Slattery

Original Engine Number

:

TPBG 1091

Current Engine Number

:

TPBG 1091