VA 1446
SVW / / 330 views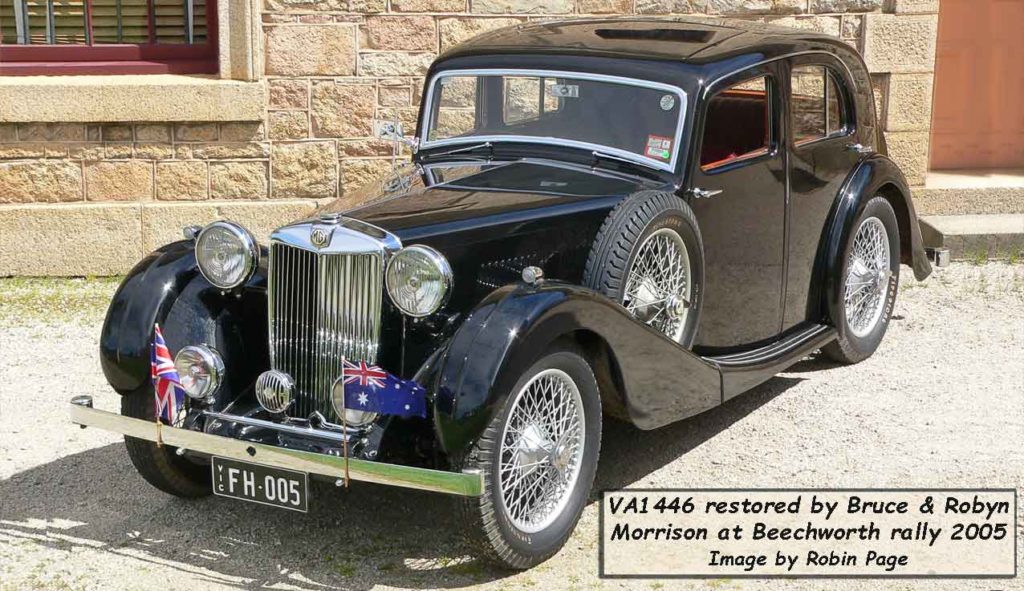 Information / History:
VA1446 (FH005) was purchased by Sir George Tallis, Managing Director of the Tivoli Theatre in 1938 when he visited the UK with his new bride.
They intended to tour the continent but were dissuaded by the threat of war, so the car was brought back to Australia on the first available ship.
The VA became part of the Tallis Estate on the Mornington Peninsular where it remained for many years.
The history has been well documented by Derek Davis the third owner.  In 1979 the car was purchased by the Morrisons and underwent a full rebuild and has been in regular use since.
The Tallis Estate Beleura, an Italianate villa, was erected in 1864 for James Butchard.  In 1916, the auction of Beleura attracted Mr & Mrs George Tallis later Sir George & Lady Tallis who also purchased most of the surrounding land.  Sir George spent his retirement farming, however, he is better known as a theatrical entrepreneur who for many years was the major shareholder and Chairman of Directors of the giant entertainment company J.C. Williamson Ltd.
His wife, formerly an actress, became a doyenne of Melbourne society and charity worker.  Sir George died in 1948, when by family agreement Beleura was acquired by his youngest son, John Morton Tallis, gentleman, composer of music – John Tallis bequeathed Beleura, its contents and the Tallis Foundation, to the people of Victoria in 1996.
Listing ID

:

1323

SVW

:

VA

Chassis Number

:

1446

Year of Production

:

1938

Previous Owners

: Sir George Tallis, Vic.
Derek Davis, Vic.

Current Owner

:

Robyn & Bruce Morrison

Date Acquired

:

1979

Current Reg

:

FH 005