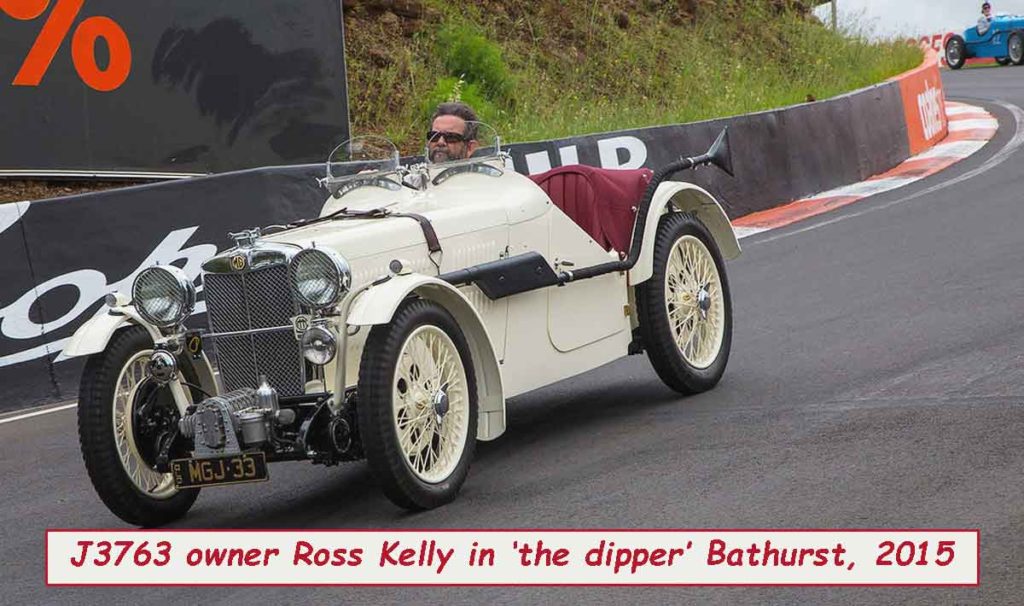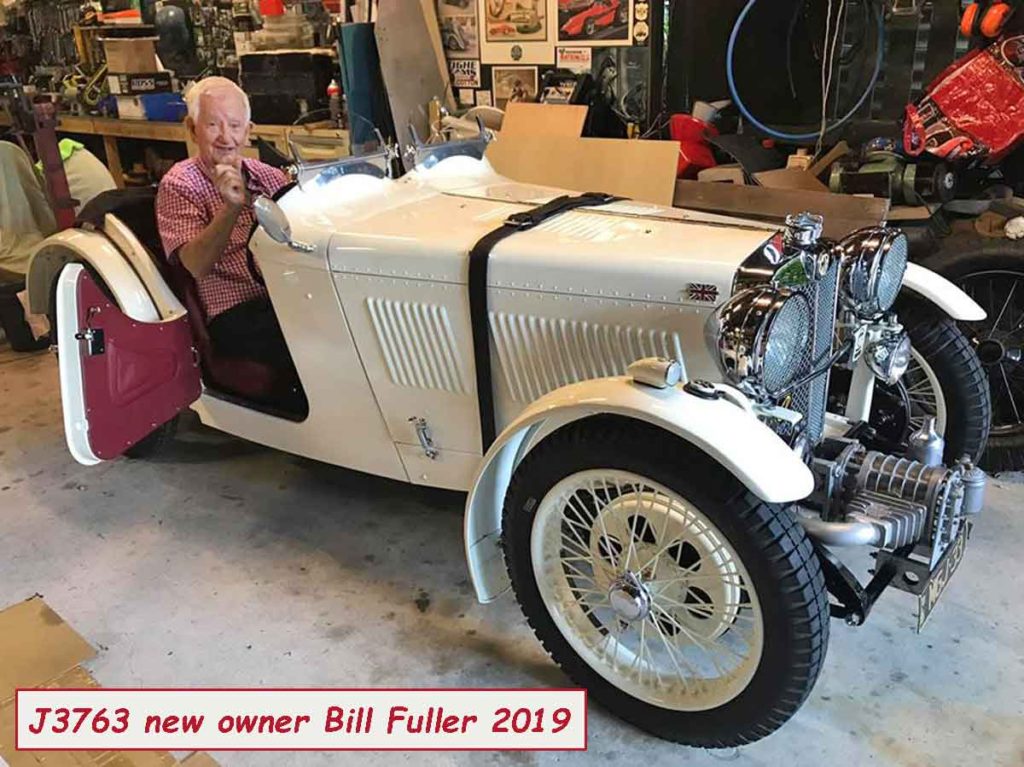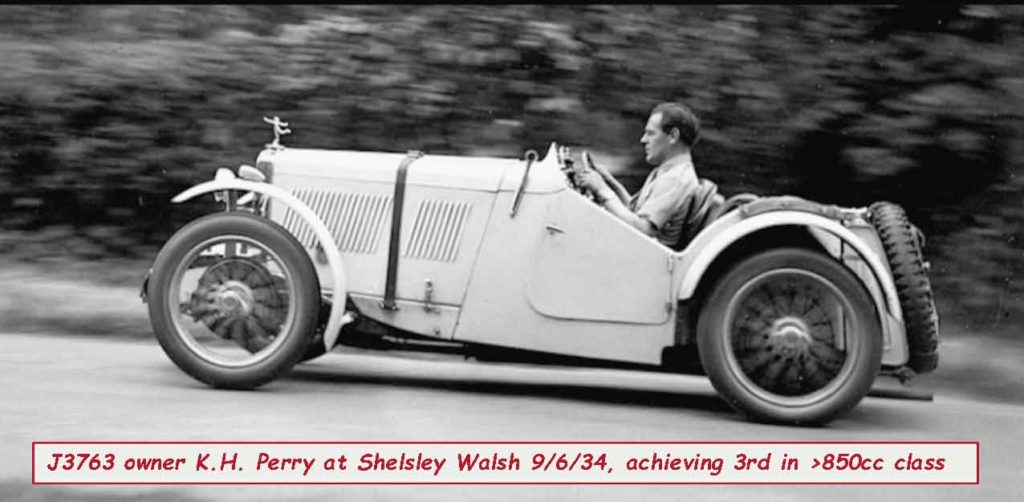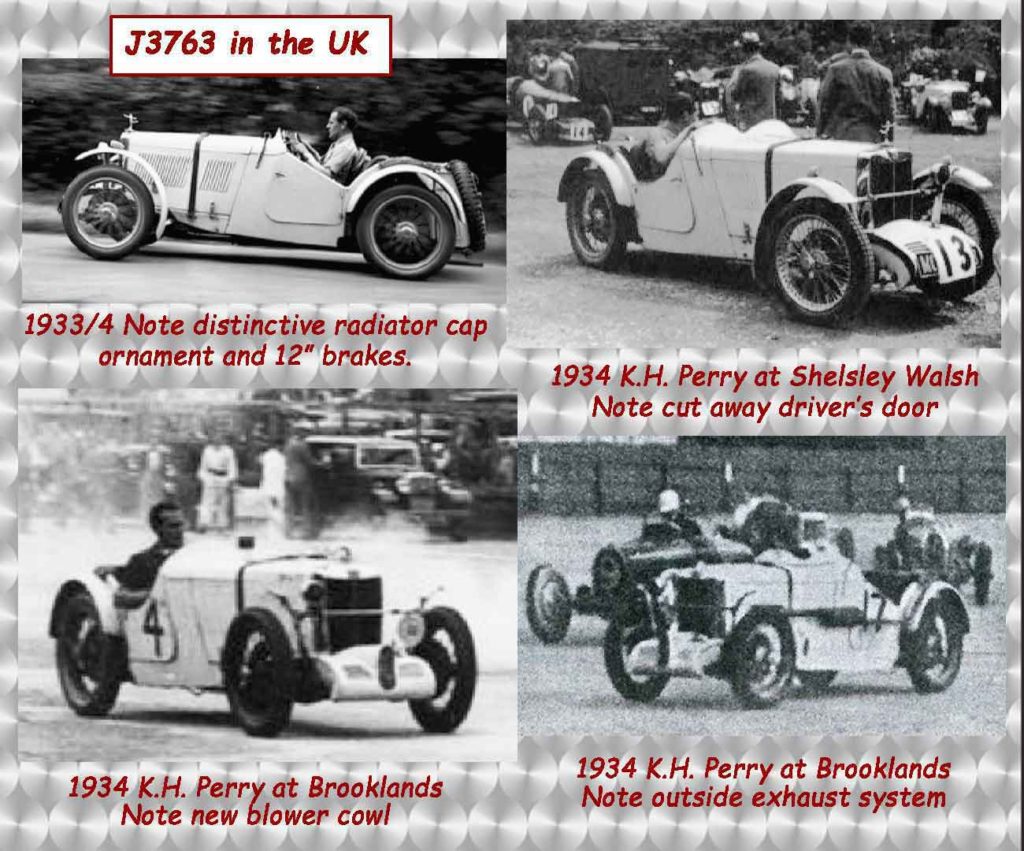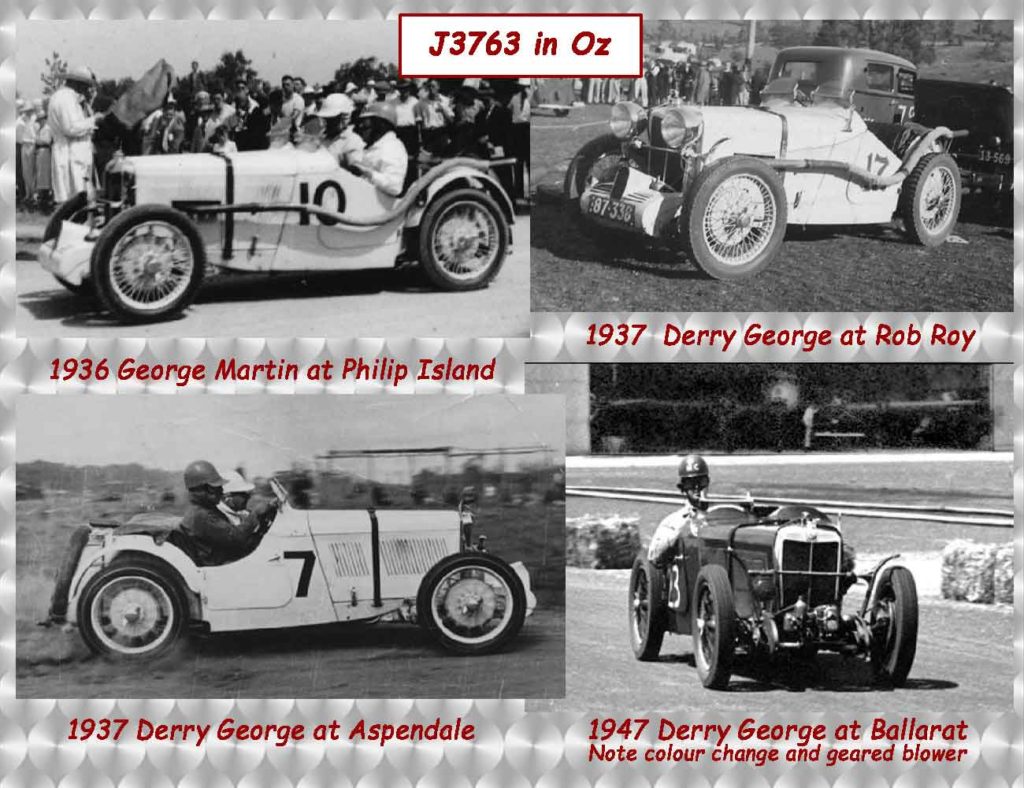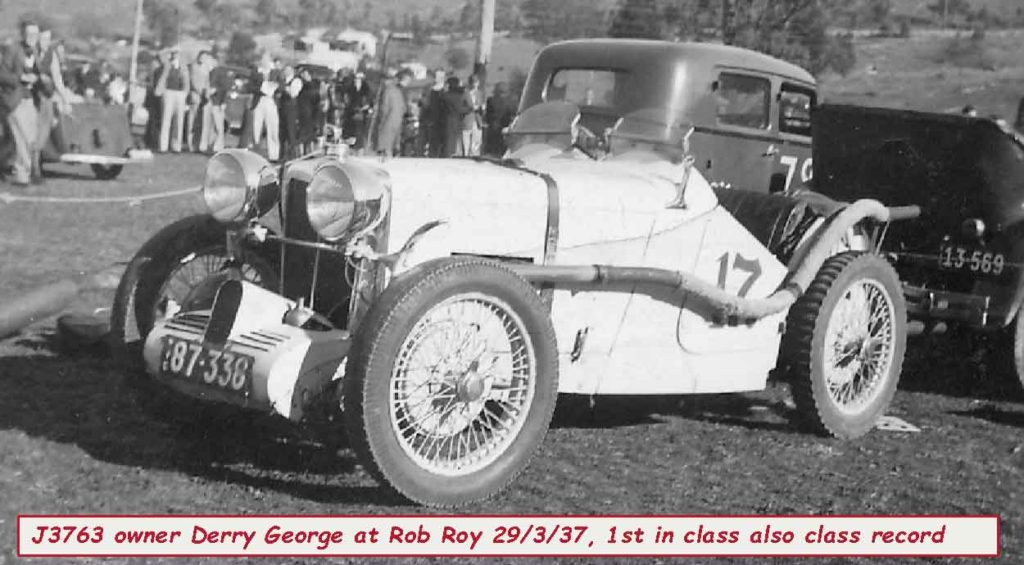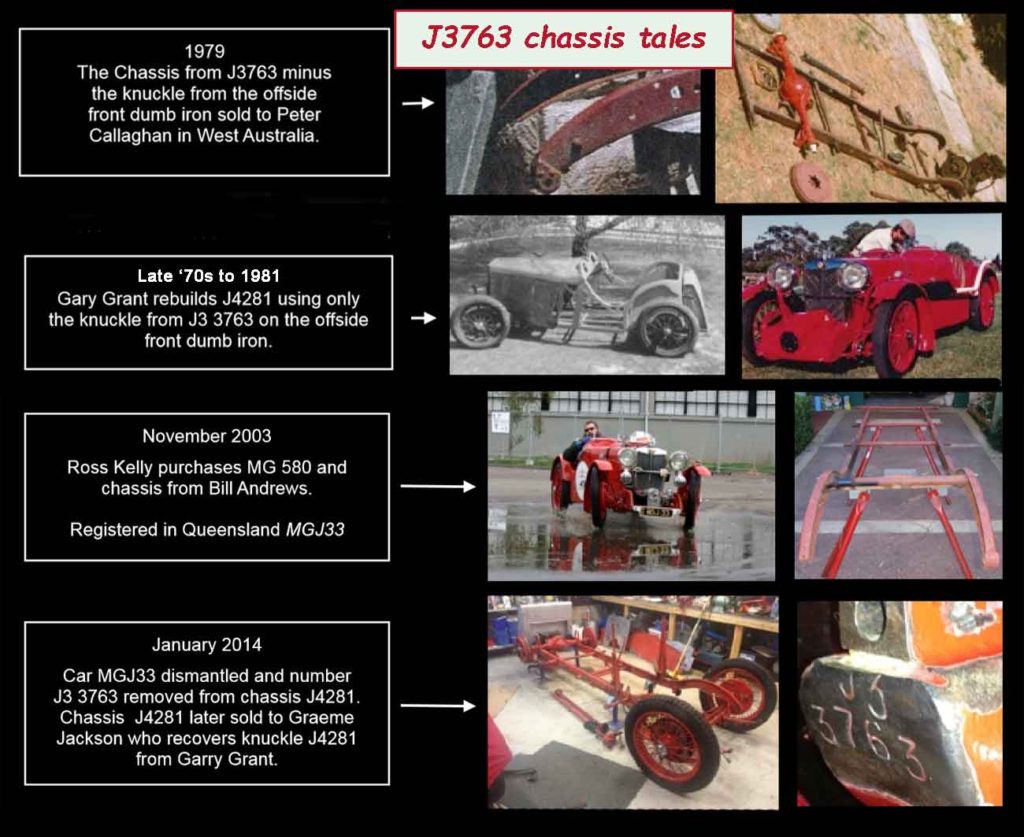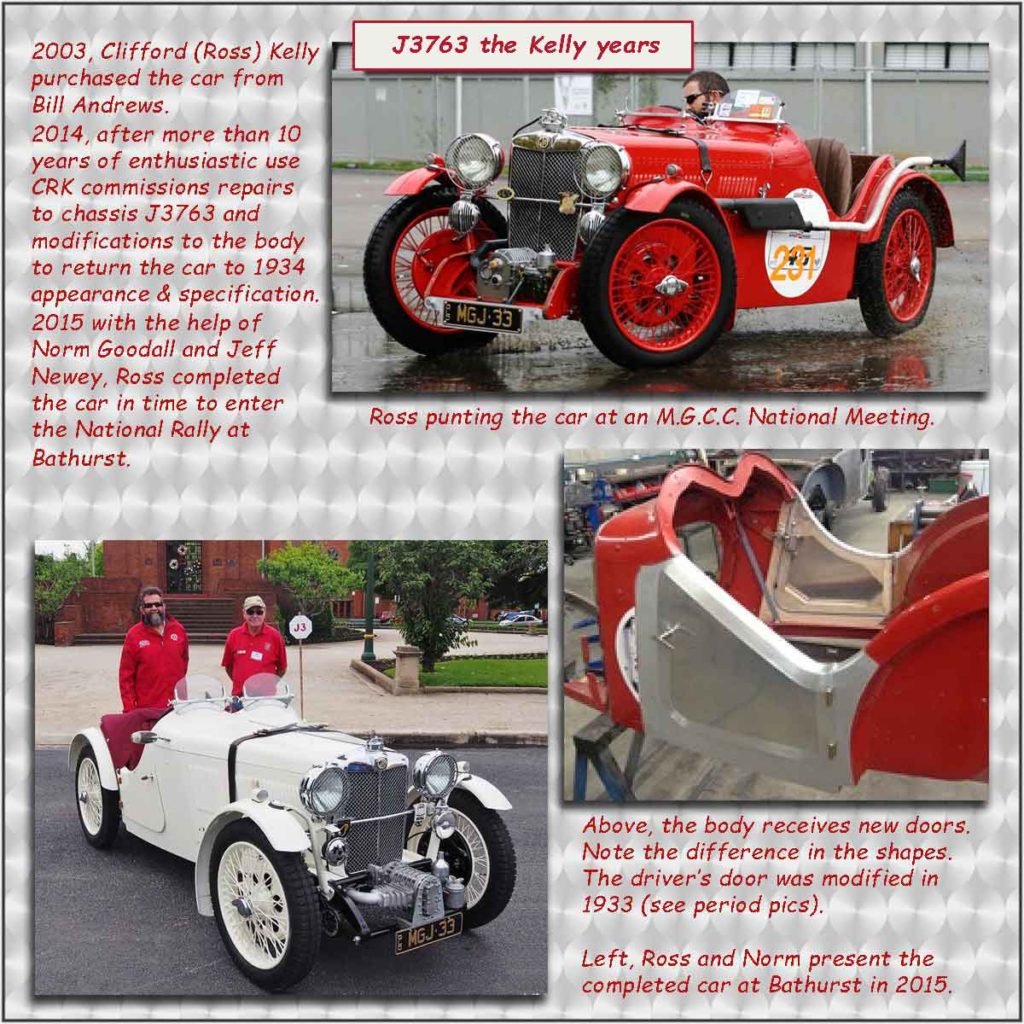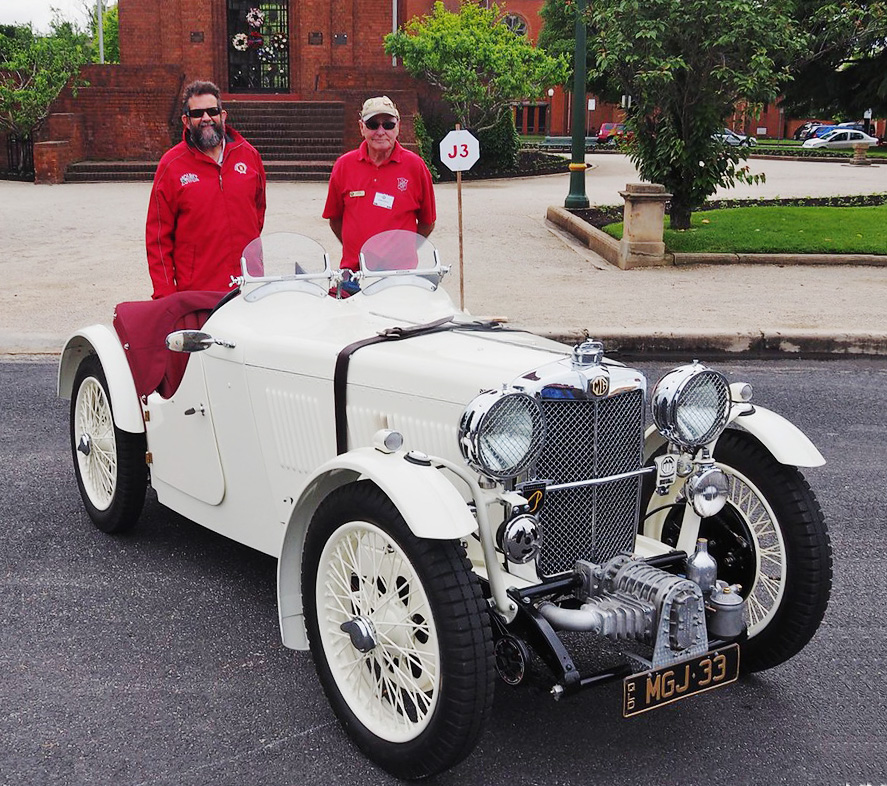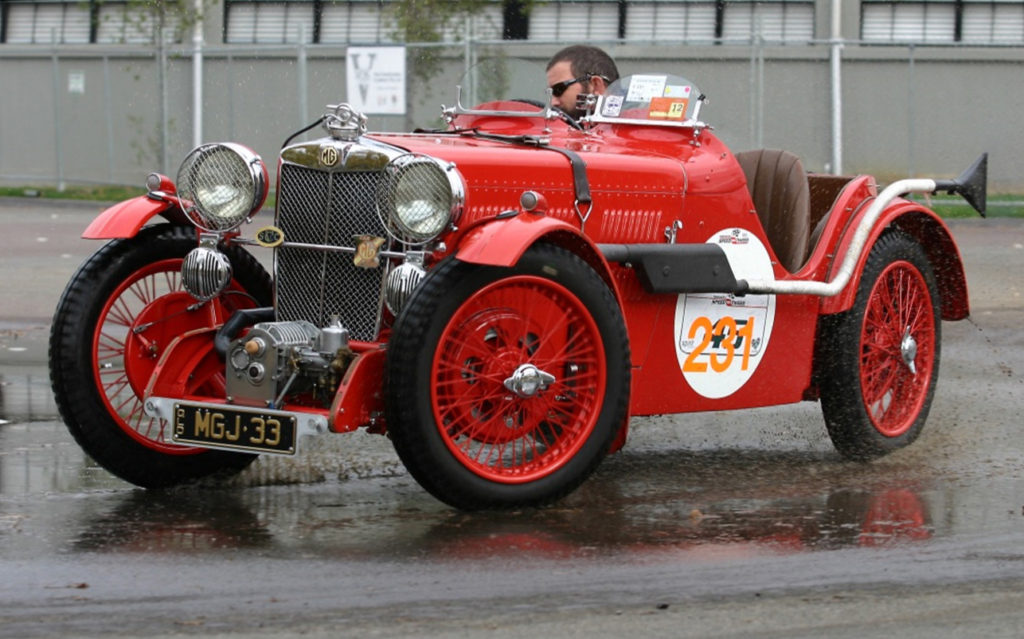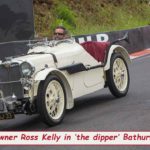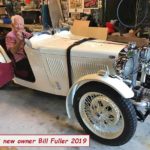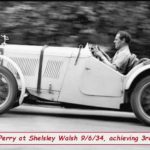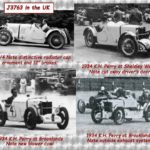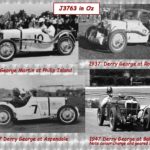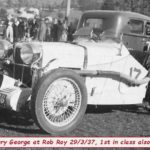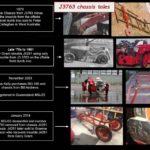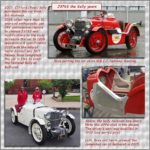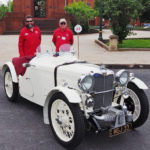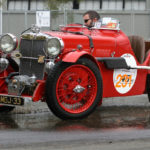 Currently owner: Bill Fuller, Queensland

Information: by Clifford Kelly and Tim Jackson.

Known as the "Australian J4".
Built in Feb. 1933 and retained by Abingdon initially registered JB 641, the car went to University Motors in May '33 and registered MG 2348.  U.M. appear to have sold it to one L. Castleton-Knight of London, SW1 who entered the J3 in the London to Edinburgh Trial (dnf) and then the London to Lands End Trial (dnf again).  In 1934 a new driver; K.H. Perry contested a number of speed events including Shelsley Walsh Hillclimb and races at Brooklands and Donnington Park.
During 1934 it was returned to Abingdon to be fitted with a manual (not preselect) ENV gearbox, 12″ brakes, a revised supercharger cowling with vertical opening concealing a larger Marshall supercharger and an outside exhaust system.
Later in 1934 the car was imported into Australia by George Martin described as a J4 and registered in Melbourne Nov. '34 with the number 87 338.  Martin soon began competing in Victorian rallies, trials, races and hillclimbs.  In 1936 the car was sold to Stan Edwards who entered it in races at Kilmore.  In 1937 it changed hands again this time being acquired by D.D. (Derry) George;  Derry had previously owned and competed in J3 3756 (click on link) but the car was damaged on a rally and rolled upside down in the Tambo River.  Derry campaigned this car extensively for the next two years.  In July '39 the car was reregistered AG 589 and in Oct. '39 competed at Rob Roy taking 1st in Class 1B, 1st in Class 2B and setting the 1100cc class record.
With the declaration of war and the advent of petrol rationing motor sport ended; Derry George was ground crew in the R.A.A.F. so we can only speculate on how and why the J3/4 was reregistered EM 865 in Nov. '42.  The registration changed again in March '46 to HR 310 and two weeks later took FTD at Rob Roy Hillclimb.  George's last event in the car was in Jan. '47 at Ballarat and shortly after he sold the car to fellow R.A.A.F. mechanic Bill Prowse.  Prowse ran the car at Rob Roy in April '47 then sold it to Jackson Oxlade who in turn sold it to John Lynch in Jan '49.  Lynch ran at Mt.Tarrangower in April and then sold the car which was described as a non-runner to Rod Jackson.  The engine was taken to A.F. Holland and entrusted to their head mechanic the Harry Firth.  On its first outing at Fisherman's Bend the engine was over-revved destroying the block.  Having spent all his money on buying the car and rebuilding the engine Jackson resorted to fitting a sidevalve Ford Ten engine bought for 25 pounds.  Reg Hunt bought the carb for two pounds, Peter Thomas had the blower and the ENV gearbox found its way into Bill Lockington's M.G. NE.  The original engine was acquired by David Price and, with the assistance of his cousin Glenn Bishop rebuilt it using a Morris Minor block.  The engine was fitted to a Morris Special built for John MacKay which is now lost.
Robert Thomas from Forest Hill bought the car in May '51 and the registration changed to UU 770.  In Feb '59 Frank Wright also from Forest Hill found the car in a sad state in a chook shed and set about getting the car back on the road, the colour was changed from green to red and the registration became GXY 240.  After a period of use the car was sold in 1960 to an unknown 'young chap' who shortly after experienced problems with the diff.  Rod Pratt acquired the car in 1963 and set about dismantling it and dispersing the parts.  The chassis was sold to Bill Atherton together with an F-type chassis.
Chassis J3763 was passed on to Garry Grant who in the mid-60s had returned home to Geelong from a working holiday in the UK where he had acquired two J-types; J3418 (click on link) in quite original condition that he used as his transport and J4281 (click on link), a wreck used as a source of parts.  Gary sold J3418 to Alan Bail to pay off his debts.
It wasn't until some years later that Gary began a restoration project.  He decided to use the chassis of J4281 because chassis J3763 was badly cracked near the engine mounts, however he kept the front knuckle carrying the number J3763 and later identified the car by that number.  The rest of the chassis was sold to Peter Callaghan in W.A; he later sold it to Paul Latham in Vic., who in turn sold it to Bill Andrews; by this time the owner of the restored car carrying the number J3763.
During the restoration of the car Grant sold it to his friend Bill Andrews also from Geelong and together they finished the restoration to award winning standard although not strictly authentic.  The car was registered MG 580 in 1983 and Bill competed in many events including:- Geelong Speed Trials and M.G.C.C. National Meetings invariably collecting numerous Concours trophies along the way.
In Nov., 2003 the car together with chassis J3763 was sold to Clifford (Ross) Kelly from Queensland and the registration changed to MGJ33.  Ross took to Pre-war motoring with enthusiasm and the car soon appeared at Speed on Tweed, M.G.C.C. Qld., events as well as M.G.C.C. National Meetings and M.G. Pre-war Register biennial rallies.  In 2010, in company with two other Australian M.G.s, the J3 traveled through Europe and the UK on a journey titled Ancona to Abingdon.  The cars were shipped to Italy then drove throughout Europe culminating in a pilgrimage to the former M.G. factory site in Abingdon.
Having returned safely the same group with a few additions undertook an 'Outback Tour' driving from Brisbane to Burke, Lightening Ridge, Charleville, Blackall, Longreach, Biloela then back to Brisbane, covering a few thousand kilometers with only a minor delay due to a malfunction of the supercharger.
In 2013 Kelly decided it was time to dismantle the still-immaculate J3 and return it to its correct 1934 specification including repairing its original chassis.  The doorless body and damaged chassis were dispatched to Historic and Vintage restorations in Victoria where the chassis was reunited with its right-hand knuckle bearing its all-important number stamping and the body was fitted with correctly shaped passenger door and cutaway driver's door.  The body and chassis were returned to the Kelly workshop where the car was reassembled mainly by Norm Goodall and Jeff Newey fueled by coffee and biscuits supplied by Ross.  The car was completed in time to attend the 2015 Pre-war Rally at Bathurst and Ross received the Kimber Award for his efforts.
When the opportunity to acquire K3004 arose Kelly placed J3763 on the Australian market and after a long campaign the car was bought by M.G. M-type and TB owner, Bill Fuller.
Listing ID

:

1863

Midget

:

J3

Chassis Number

:

3763

Year of Production

:

1933

Previous Owners

:

1933 - L. Castleton-Knight, London. 1933-34 K.H. Perry, UK. !934 George Martin Melbourne, Aus. 1936 Stan Edwards, 1937 Derry George, 1947 Bill Prowse, 1949 Jackson Oxlade, 49 John Lynch, 49 Rod Jackson, 51 Robert Thomas, 59 Frank Wright, 60 Unknown, 63 Rod Pratt, 68 Bill Atherton, 73 Gary Grant, 79 Peter Callaghhan, Known as the "Australian J4".2000 Paul Latham, 2000 Bill Andrews, 2003 Ross Kelly, 2011

Current Owner

:

Bill Fuller

Original Engine Number

:

1571AJ

Date Acquired

:

2019

Current Reg

:

MGJ33